MONDAY, JUL 27, 2015 10:45 PM HKT
How China and Russia are running rings around Washington
A geopolitical "big bang" just happened in Eurasia, and it's not good for United States
PEPE ESCOBAR, TOMDISPATCH.COM
Share 1K 97
Post
77
TOPICS: TOMDISPATCH.COM, TOMDISPATCH, POLITICS, GEOPOLITICS, CHINA, RUSSIA, NEWS, FOREIGN POLICY, POLITICS NEWS
Enlarge
Russian President Vladimir Putin (Credit: AP/Ivan Sekretarev)
This piece originally appeared on TomDispatch
Let's start with the geopolitical Big Bang you know nothing about, the one that occurred just two weeks ago. Here are its results: from now on, any possible future attack on Iran threatened by the Pentagon (in conjunction with NATO) would essentially be an assault on the planning of an interlocking set of organizations — the BRICS nations (Brazil, Russia, India, China, and South Africa), the SCO (Shanghai Cooperation Organization), the EEU (Eurasian Economic Union), the AIIB (the new Chinese-founded Asian Infrastructure Investment Bank), and the NDB (the BRICS' New Development Bank) — whose acronyms you're unlikely to recognize either.  Still, they represent an emerging new order in Eurasia.
Tehran, Beijing, Moscow, Islamabad, and New Delhi have been actively establishing interlocking security guarantees. They have been simultaneously calling the Atlanticist bluff when it comes to the endless drumbeat of attention given to the flimsy meme of Iran's "nuclear weapons program."  And a few days before the Vienna nuclear negotiations finally culminated in an agreement, all of this came together at a twin BRICS/SCO summit in Ufa, Russia — a place you've undoubtedly never heard of and a meeting that got next to no attention in the U.S.  And yet sooner or later, these developments will ensure that the War Party in Washington and assorted neocons (as well as neoliberalcons) already breathing hard over the Iran deal will sweat bullets as their narratives about how the world works crumble.
The Eurasian Silk Road
With the Vienna deal, whose interminable build-up I had the dubious pleasure of following closely, Iranian Foreign Minister Javad Zarif and his diplomatic team have pulled the near-impossible out of an extremely crumpled magician's hat: an agreement that might actually end sanctions against their country from an asymmetric, largely manufactured conflict.
Think of that meeting in Ufa, the capital of Russia's Bashkortostan, as a preamble to the long-delayed agreement in Vienna. It caught the new dynamics of the Eurasian continent and signaled the future geopolitical Big Bangness of it all. At Ufa, from July 8th to 10th, the 7th BRICS summit and the 15th Shanghai Cooperation Organization summit overlapped just as a possible Vienna deal was devouring one deadline after another.
Consider it a diplomatic masterstroke of Vladmir Putin's Russia to have merged those two summits with an informal meeting of the Eurasian Economic Union (EEU). Call it a soft power declaration of war against Washington's imperial logic, one that would highlight the breadth and depth of an evolving Sino-Russian strategic partnership. Putting all those heads of state attending each of the meetings under one roof, Moscow offered a vision of an emerging, coordinated geopolitical structure anchored in Eurasian integration. Thus, the importance of Iran: no matter what happens post-Vienna, Iran will be a vital hub/node/crossroads in Eurasia for this new structure.
If you read the declaration that came out of the BRICS summit, one detail should strike you: the austerity-ridden European Union (EU) is barely mentioned. And that's not an oversight. From the point of view of the leaders of key BRICS nations, they are offering a new approach to Eurasia, the very opposite of the language of sanctions.
Here are just a few examples of the dizzying activity that took place at Ufa, all of it ignored by the American mainstream media. In their meetings, President Putin, China's President Xi Jinping, and Indian Prime Minister Narendra Modi worked in a practical way to advance what is essentially a Chinese vision of a future Eurasia knit together by a series of interlocking "new Silk Roads." Modi approved more Chinese investment in his country, while Xi and Modi together pledged to work to solve the joint border issues that have dogged their countries and, in at least one case, led to war.
The NDB, the BRICS' response to the World Bank, was officially launched with $50 billion in start-up capital. Focused on funding major infrastructure projects in the BRICS nations, it is capable of accumulating as much as $400 billion in capital, according to its president, Kundapur Vaman Kamath. Later, it plans to focus on funding such ventures in other developing nations across the Global South — all in their own currencies, which means bypassing the U.S. dollar.  Given its membership, the NDB's money will clearly be closely linked to the new Silk Roads. As Brazilian Development Bank President Luciano Coutinhostressed, in the near future it may also assist European non-EU member states like Serbia and Macedonia. Think of this as the NDB's attempt to break a Brussels monopoly on Greater Europe. Kamath even advanced the possibility of someday aidingin the reconstruction of Syria.
You won't be surprised to learn that both the new Asian Infrastructure Investment Bank and the NDB are headquartered in China and will work to complement each other's efforts. At the same time, Russia's foreign investment arm, the Direct Investment Fund (RDIF), signed a memorandum of understanding with funds from other BRICS countries and so launched an informal investment consortium in which China's Silk Road Fund and India's Infrastructure Development Finance Company will be key partners.
Full Spectrum Transportation Dominance
On the ground level, this should be thought of as part of the New Great Game in Eurasia. Its flip side is the Trans-Pacific Partnership in the Pacific and the Atlantic version of the same, the Transatlantic Trade and Investment Partnership, both of which Washington is trying to advance to maintain U.S. global economic dominance. The question these conflicting plans raise is how to integrate trade and commerce across that vast region. From the Chinese and Russian perspectives, Eurasia is to be integrated via a complex network of superhighways, high-speed rail lines, ports, airports, pipelines, and fiber optic cables. By land, sea, and air, the resulting New Silk Roads are meant to create an economic version of the Pentagon's doctrine of "Full Spectrum Dominance" — a vision that already has Chinese corporate executives crisscrossing Eurasia sealing infrastructure deals.
For Beijing — back to a 7% growth rate in the second quarter of 2015 despite a recent near-panic on the country's stock markets — it makes perfect economic sense: as labor costs rise, production will be relocated from the country's Eastern seaboard to its cheaper Western reaches, while the natural outlets for the production of just about everything will be those parallel and interlocking "belts" of the new Silk Roads.
Meanwhile, Russia is pushing to modernize and diversify its energy-exploitation-dependent economy. Among other things, its leaders hope that the mix of those developing Silk Roads and the tying together of the Eurasian Economic Union — Russia, Armenia, Belarus, Kazakhstan, and Kyrgyzstan — will translate into myriad transportation and construction projects for which the country's industrial and engineering know-how will prove crucial.
As the EEU has begun establishing free trade zones with India, Iran, Vietnam, Egypt, and Latin America's Mercosur bloc (Argentina, Brazil, Paraguay, Uruguay, and Venezuela), the initial stages of this integration process already reach beyond Eurasia. Meanwhile, the SCO, which began as little more than a security forum, is expanding and moving into the field of economic cooperation.  Its countries, especially four Central Asian "stans" (Kazakhstan, Kyrgyzstan, Uzbekistan, and Tajikistan) will rely ever more on the Chinese-driven Asia Infrastructure Investment Bank (AIIB) and the NDB. At Ufa, India and Pakistan finalized an upgrading process in which they have moved from observers to members of the SCO. This makes it an alternative G8.
In the meantime, when it comes to embattled Afghanistan, the BRICS nations and the SCO have now called upon "the armed opposition to disarm, accept the Constitution of Afghanistan, and cut ties with Al-Qaeda, ISIS, and other terrorist organizations." Translation: within the framework of Afghan national unity, the organization would accept the Taliban as part of a future government. Their hopes, with the integration of the region in mind, would be for a future stable Afghanistan able to absorb more Chinese, Russian, Indian, and Iranian investment, and the construction — finally! — of a long-planned, $10 billion, 1,420-kilometer-long Turkmenistan-Afghanistan-Pakistan-India (TAPI) gas pipeline that would benefit those energy-hungry new SCO members, Pakistan and India. (They would each receive 42% of the gas, the remaining 16% going to Afghanistan.)
Central Asia is, at the moment, geographic ground zero for the convergence of the economic urges of China, Russia, and India. It was no happenstance that, on his way to Ufa, Prime Minister Modi stopped off in Central Asia.  Like the Chinese leadership in Beijing, Moscow looks forward (as a recent document puts it) to the "interpenetration and integration of the EEU and the Silk Road Economic Belt" into a "Greater Eurasia" and a "steady, developing, safe common neighborhood" for both Russia and China.
Why Britain Joining China-Led Bank Is a Sign of American Decline
SINGAPORE -- Some events are epochal. The decision by Great Britain to join the Asian Infrastructure Investment Bank was one such event. It may have heralded the end of the American century and the arrival of the Asian century.
A clue to the epochal significance of this event came from a senior U.S. government official interviewed by the Financial Times. His sharp words were very telling: "We are wary about a trend toward constant accommodation of China, which is not the best way to engage a rising power." No ally has been as faithful to the U.S. as the British. Only they would follow the United States into the Iraqi quagmire -- and that was only 12 years ago.
Today, that same ally has decided that history has turned a corner. The U.S. can no longer dominate world history. A new power has also arrived. The British, like most other middle powers, have decided to hedge their bets and work with China as well as the U.S. But this is also a matter of survival. If London does not serve the financial and economic interests of a rising China, it could become sidelined in the 21st century. Hence, the British have no choice but to work with China.
The petulant White House reaction was predictable. Sadly, it was also unwise. Any objective and calm assessment of the Chinese decision to launch the AIIB would show that this is a bank whose time has come. The Asian Development Bank has estimated that Asia needs to spend at least $8 trillion in infrastructure investment. The American-dominated World Bank and related institutions cannot possibly fulfill this demand. China's decision to use its reserves to boost Asian infrastructure investment was clearly welcomed in Asia. Given its spectacular success with developing world-class infrastructure in record time, China has a lot of expertise in this area. Asia needs this.
Until the British joined the AIIB, America had been publicly denying that it was discouraging countries from joining the new bank, even though it was well known that America was doing so. Australia and South Korea held back from joining the AIIB because of direct calls from Washington. Now that the British have joined, there is no reason for them to hold back any longer. America should wisely accept their decision.
Publicly, America said that it could not support the AIIB because it could only support an institution with high standards of governance. If America truly wants these high standards of governance, it should welcome the British decision to join. The British can and should lobby for the position of vice president of corporate governance at AIIB. If high British standards of the rule of law and corporate governance are embedded in the AIIB, the bank could provide a role model of a new kind of international institution.
Sadly, the American-dominated World Bank cannot serve as a model for the AIIB. It is now well known that the World Bank has served as an instrument of American foreign policy. Joe Stiglitz has documented how the World Bank punished Ethiopia at the request of private American banks, which had lost revenue on loans to Ethiopia. If the U.S. wants high standards of governance in the AIIB, it should serve as a role model and agree to relinquish control of the World Bank. It should also allow true meritocratic governance, instead of insisting that only an American can run the World Bank.
At the end of the day, this new competition between America and China to produce better multilateral institutions will be good for the world. This will be a race to the top in corporate governance, and not a race to the bottom. It does not matter whether America wins or China wins. Either way, we will see an improvement in the standards of managing institutions of global governance. In the process, the Asian people will be better off. And the Asian century will arrive faster.
**************************************************************************************                China cuts back on US debt for 5th month in a row
China, the largest holder of US debt, has continued to cut back on US Treasuries for the fifth consecutive month, shaving $5.2 billion from its holdings between December and January. Japan is edging closer in overtaking the number one spot.
The US Treasury reported Monday that China reduced its holding from $1.244 trillion in December to $1.239 trillion in January. The fifth straight month of reductions.
Economic growth in China, which is at a 25-year low, is the most obvious explanation for the scale back. With more capital leaving mainland China, the less the government needs US dollars to keep the yuan in check.
In total, foreign central banks sold off $12.3 billion in US Treasuries in January, the fourth consecutive month of outflow.
Despite China's pull out, overall foreign holdings increased one percent to $6.22 trillion, or just over 34 percent of total public debt. Among all foreign creditors, China and Japan own about 40 percent of US Treasuries.
Japan, the second biggest US debt owner, upped its holdings by $7.7 billion to $1.2386 trillion. Now Japan is neck-and-neck with China as the largest foreign holder of US Treasuries. HSBC Holdings forecast Japanese investors may buy up $300 billion in US Treasuries in the next two or three years.
As the Japanese yen continues to weaken under the Bank of Japan's monetary stimulus, the demand for dollar-held assets is increasing.
"Japan should be on the path, from a Treasury perspective, to becoming a much bigger holder just because of what's going on in their market and because they're the kinds of investors that would invest across different markets," Aaron Kohli, an interest-rate strategist at BNP Paribas in New York, told Bloomberg News.
Belgium, the third largest owner after China and Japan, increased its share to $354.6 billion, a $19.6 billion increase since December.
US debt is becoming a safer more attractive option compared to Europe, where near-zero interest rates and stimulus plans threaten to stifle bond yields.
While Europe pursues a loose monetary policy, the US is getting ready to tighten with an expected interest rate rise this year.
***********************************************************************************************************************************************************************************************

Keep IMF and World Bank instruments of US policy, Treasury chief urges Congress
For every dollar the US spends in the IMF, four dollars are leveraged from other members, the Treasury secretary told Congress, urging lawmakers to approve a reform bill or risk losing "international credibility and influence."
Facing the House Financial Services Committee on Tuesday, Secretary of the Treasury Jack Lew testified as to the importance of the International Monetary Fund and the World Bank to US economic and political influence around the world.
"Our investments in these institutions promote our strategic interests and international stability," Lew told lawmakers. "Every dollar of our participation leverages four more from other member countries."
These other members have been asking for more representation in the IMF, an institution originally established at the 1944 Bretton Woods conference. In 2010, its 188 member states adopted a package of reforms that would distribute influence more evenly, while keeping the IMF under the effective control of Washington. However, Congress has refused to approve the agreement. Earlier this year, the fund's executive board decided to explore ways to move ahead without US approval by June 30.
Proponents of the reform have pointed out that it would only reduce the US share of control over the IMF board from 16.75 percent to 16.5. Any amendments to the fund's policies or operations require 85 percent of the board vote, meaning Washington would continue to have a de facto vote.
"Through the IMF, the US gets to decide how to spend other people's money. The IMF amplifies Washington's influence. A deal to expand the IMF further is about as close to a free lunch for America as it gets," wrote Brett House in Quartz magazine last month.
The Treasury's warnings come as a number of Washington's European allies expressed interest in a new international investment bank created by Beijing last year. London recently said that it would join the $50 billion Asian Infrastructure Investment Bank (AIIB), with major European states following suit despite protests from Washington.
International financial institutions such as the IMF and the World Bank "effectively leverage our limited resources in service of our national and global interests," Lew told the lawmakers. If the IMF decides to proceed without US approval, the result would be "a loss of US influence and our ability to shape international norms and practices," he said.
However, the Congressional committee seemed far more interested in asking Lew about Hillary Clinton's emails, since he served as one of her deputies at the State Department between January 2009 and November 2010.
Lew countered that he primarily dealt with Clinton through phone calls and meetings, and that he did not remember which address the emails came from. "I don't remember giving it a lot of thought," he said. "It was a long time ago."
**********************************************************************************************************************
"Colossal Defeat" For Obama As Australia Joins China's Regional Bank
Submitted by Tyler Durden on 03/16/2015 23:15 -0400
Having attacked its "closest ally" UK for "constant accomodation" with China, we suspect President Obama will be greatly displeased at yet another close-ally's decision to partner up with the Chinese-led Asian Infrastructure Investment Bank (AIIB). As The Australian reports, "make no mistake," the decision by Australia's Abbott government to sign on for negotiations to join China's regional bank, foreshadowed by Tony Abbott at the weekend,  "represents a colossal defeat for the Obama administration's incompetent, distracted, ham-fisted dip­lomacy in Asia."

As The Australian's Greg Sheridan writes Op-Ed,
The decision by the Abbott government to sign on for negotiations to join China's regional bank, foreshadowed by Tony Abbott at the weekend, represents another defeat for Barack Obama's diplomacy in Asia.


The Abbott government is right to make this decision. It had well-founded concerns about the vague and unsatisfactory governance arrangements of the institution when Beijing first invited Canberra to join.


Those arrangements have ­improved since then and Australia is only signing on to negotiate terms of accession.

 If the terms are no good, Australia will ultimately walk away.

 Canberra's move follows similar decisions by Britain, Singapore, India and New Zealand.

 Make no mistake — all this represents a colossal defeat for the Obama administration's incompetent, distracted, ham-fisted dip­lomacy in Asia.
The Obama administration didn't want Australia to sign up for the China-led AIIB. The Abbott government rightly feels that it owes Obama nothing.
Obama went out of his way to embarrass the Prime Minister politically on climate change with a rogue speech at the G20 summit in Brisbane.

 The speech had been billed as dealing with American leadership in Asia and instead was full of ­material designed to embarrass Abbott.

 Since then, the Abbott government has felt absolutely zero subjective good will for Obama.

 This is an outlook shared by many American allies.

 It's important to get all the distinctions right here.

 The Abbott government operates foreign policy in Australia's national interest.

 That includes full fidelity to the American ­alliance and to supporting US strategic leadership.

 But the Obama administration has neither the continuous presence, nor the tactical wherewithal nor the store of goodwill or personal relationships to carry Canberra, or other allies, on non-essential matters.
The Obama administration has tried to convince both its friends and ­allies not to join the China Bank.
This was probably a bad call in itself, but, as so often with the Obama administration, it was a bad call badly implemented.

The characteristically bad implementation has helped shred Obama's diplomatic credibility.

The Chinese have been the US's best friends in Asia, diplomatically. Their territorial aggressiveness in the East and South China Seas has driven Asia to embrace America's security role more tightly than ever.

The American military are now the best American diplomats in Asia by far.

Such prestige as the US enjoys in Asia these days rests disproportionately on the shoulders of the US military.

Obama has neglected and mistreated allies and as a result Washington has much less influence than previously.

The saga of the China Bank is almost a textbook case of the failure of Obama's foreign policy.
*  *  *As we have detailed recently, Australia is in trouble economically and its pivot to China makes perfect self-preservation sense... as Sheridan notes:
Obama treats allies shabbily and as a result he loses influence with them and then seems perpetually surprised at this outcome.

The Asian professionals in Washington regard the Obama administration as particularly ineffective in Asia.

The consensus is that the Obama White House is insular, isolated, inward-looking, focused on the President's personal image and ineffective in foreign policy.
* * *De-dollarization continues... As Simon Black recently concluded, now we can see words are turning into action...
Britain and Australia might be too polite to tell the US straight up– "Look, you have $18.1 trillion in official debt, you have $42 trillion in unfunded liabilities, and you're kind of a dick. I'm dumping you."

So instead they're going with the "it's not you, it's me" approach.

But to anyone paying attention, it's pretty obvious where this trend is going.

It won't be long before other western nations jump on the anti-dollar bandwagon with action and not just words.
*  *  *Bottom line: this isn't theory or conjecture anymore. Every shred of objective evidence suggests that the dollar's dominance is coming to an end.
http://www.zerohedge.com/news/2015-03-16/colossal-defeat-obama-australia-joins-chinas-regional-bank
*********************************************************************************************************************************************************************************************

Thursday, March 5, 2015
End of the Dollar as Global Reserve Currency? | China Has Announced Plans For A 'World Currency'
Source - The Economic Collapse
The Chinese do not plan to live in a
world dominated by the U.S. dollar for much longer.  Chinese leaders have been calling for the U.S. dollar to be replaced as the primary global reserve currency 
for a long time
, but up until now they have never been very specific about what they would put in place of it.  Many have assumed that the Chinese simply wanted some new international currency to be created.  But what if that is not what the Chinese had in mind?  
When I arrived to Bangkok the other day, coming down the motorway from the airport I saw a huge billboard—and it floored me.

The billboard was from the Bank of China. It said: "RMB: New Choice; The World Currency"

Given that the Bank of China is more than 70% owned by the government of the People's Republic of China, I find this very significant.

It means that China is literally advertising its currency overseas,and it's making sure that everyone landing at one of the world's busiest airports sees it. They know that the future belongs to them and they're flaunting it.
This is the photograph of that billboard that he posted with his article…
The tightly controlled Chinese yuan will eventually supersede the dollar as the top international reserve currency, according to a new poll of institutional investors.

The survey of 200 institutional investors – 100 headquartered in mainland China and 100 outside of it – published by State Street and the Economist Intelligence Unit on Thursday found 53 percent of investors think the renminbi will surpass the U.S. dollar as the world's major reserve currency.

Optimism was higher within China, where 62 percent said they saw a redback world on the horizon, compared with 43 percent outside China.
And without a doubt we are starting to see the beginnings of a significant shift.
China's yuan broke into the top five as a world payment currency in November, overtaking the Canadian dollar and the Australian dollar, global transaction services organization SWIFT said on Wednesday.
The U.S. dollar won't be replaced overnight, but things are changing.
Of course the truth is that the Chinese have been preparing for this for a very long time.  The Chinese refuse to tell the rest of the world exactly how much gold they have, but everyone knows that they have been accumulating enormous amounts of it.  And even if they don't explicitly back the renminbi with gold, the massive gold reserves that China is accumulating will still give the rest of the planet a great deal of confidence in Chinese currency.
Alan Greenspan, who served at the helm of the Federal Reserve for nearly two decades, recently penned an op-ed for the Council on Foreign Relations discussing gold and its possible role in China, the world's second-largest economy. He notes that if China converted only a "relatively modest part of its $4 trillion foreign exchange reserves into gold, the country's currency could take on unexpected strength in today's international financial system."
Meanwhile, the Chinese have also been accumulating a tremendous amount of U.S. debt.  At this point, the Chinese own approximately 1.3 trillion dollars worth of our debt, and that gives them a lot of power over our currency and over our financial system.
Someday if the Chinese wanted to undermine confidence in the U.S. dollar and in the U.S. financial system, they have a lot of ammunition at their disposal.
For much, much more on this trend, please see the following articles…
On a purchasing power basis, the size of the Chinese economy has already surpassed the size of the U.S. economy.
We are only two months into 2015, and it has already proven to be the most volatile year for the economic environment since 2008-2009. We have seen oil markets collapsing by about 50 percent in the span of a few months (just as the Federal Reserve announced the end of QE3, indicating fiat money was used to hide falling demand), the Baltic Dry Index losing 30 percent since the beginning of the year, the Swiss currency surprise, the Greeks threatening EU exit (and now Greek citizens threatening violent protests with the new four-month can-kicking deal), and the effects of the nine-month-long West Coast port strike not yet quantified. This is not just a fleeting expression of a negative first quarter; it is a sign of things to come.
The euro last stood at $1.1072, off 0.90 percent for the day and below a key support level, Sutton said. It fell to as little as $1.1066, which was the lowest level for the euro against the dollar since September 2003, according to Thomson Reuters data.

The euro also declined to one-month lows against the Japanese yen, which was flat against the dollar at 119.72 yen to the dollar.
As the U.S. and Europe continue to struggle, China is going to want a significantly larger role on the global stage.
******************************************************************************************************************************************

US anger at Britain joining Chinese-led investment bank AIIB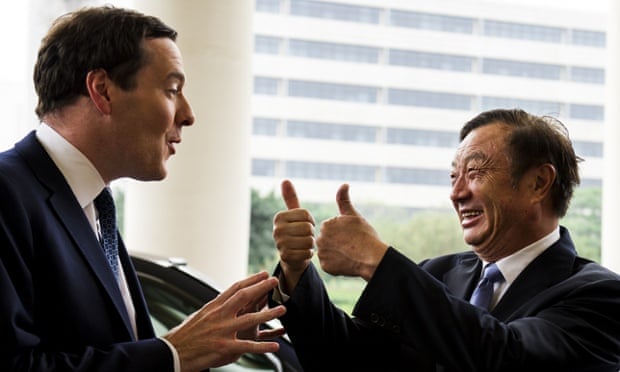 Geoerge Osborne on a 2013 trade visit to China. The chancellor has been a keen backer of closer economic ties. Photograph: Rex Features/Rex Features