Assistant Secretary General of the UN arrives in Baghdad tomorrow

Posted: November 14, 2011 by

THE CURRENCY NEWSHOUND 

Reach Baghdad tomorrow, Lady Amat Al Aleem Ali Alsoswa] Assistant Secretary-General of the United Nations in a visit to Iraq for the active United Nations Development Programme.

It is scheduled to be held Alsoswa a press conference on Wednesday at the headquarters of the United Nations Mission to help Iraq [UNAMI] in the Green Zone to talk about its mission.

It is noted that Alsoswa is a citizen of Yemen occupies the post of Assistant Secretary General of the United Nations since 2005 and occupies the post of Regional Director of the Office of the Arab States of the United Nations Development Programme [UNDP], and leads the nation Alim Alsoswa through this website eighteen country offices in the Arab countries seeking to strengthen support of national capacities in those countries to eliminate poverty and establish democratic governance and the empowerment of women.

And under its supervision have been issued two reports in the series of Arab Human Development Report in 2006 and 2009, and now oversees the preparation of the next report for the year 2012.

And operated Alsoswa leadership positions in their countries of Yemen and in the period from 2003 to 2005, the first Secretary for Human Rights and by, she worked as an agent of the Ministry of Information from 1991 to 1997, when headed editor of Press and News, and served as the president of the first Committee National Women in Yemen from 1997,

In the area of external action and diplomat of the Republic of Yemen, represented her country as ambassador to the Netherlands, Denmark and Sweden.

And took over the leadership of a nation-Alim Alsoswa the Yemeni Women's Union between 1989 and 1991, and worked a visiting professor in the Department of Political Science at the University of Sana'a. She holds a Bachelor of Science in Mass Communication from Cairo University and a Master of Science in Global Communications from the American University in Washington DC, USA.

http://bit.ly/sys7Dw




---




Tuesday, November 01, 2011





UNSC resolution restored Iraq's full sovereignty

BAGHDAD / IraqiNews.com: The United Nations Security Council's resolution to bring Iraq out of Chapter VII of the UN Charter has restored Iraq's full sovereignty over its money abroad, the chairman of the parliamentary security and defense committee said on Tuesday. "The resolution is an acknowledgement that Iraq no longer poses a threat to the security of other countries," Hadi al-Aameri told IraqiNews.com. UN Security Council Resolution 678 was the legal authorization for the Gulf War, which was passed on 29 November 1990. It gave Iraq an opportunity to withdraw from Kuwait by 15 January 1991 and authorized UN member states in cooperation with the government of Kuwait to use "all necessary means to uphold and implement" Chapter VII of the UN Charter, which authorizes the use of force to restore peace. Chapter VII of the United Nations Charter sets forth the powers of the UN Security Council to maintain peace. It allows the council to "determine the existence of any threat to the peace, breach of the peace, or act of aggression" and to take military and non-military action to "restore international peace and security." The United Nations Security Council on Monday unanimously voted to extend arrangements for depositing the proceeds from sales of petroleum, petroleum products and natural gas into the Development Fund for Iraq and to review all resolutions pertaining to Iraq from 1990. SS (S) 1




---




Iraq Foreign Minister receives Asst U.S. Secretary of State; Iraq needs to fulfill UN obligations

Posted: September 27, 2011 by THE CURRENCY NEWSHOUND  

Minister of Foreign Affairs Mr. Hoshyar Zebari at the UN headquarters in New York on 26/9/2011 Mr. Jeffrey Feltman, assistant U.S. secretary of state for Near Eastern Affairs.

During the meeting, they discussed ways to strengthen relations of cooperation between Iraq and the United States of America, also touched on the events taking place in the Arab region in light of the changes and political developments and calls for reform demanded by the peoples of the Arab region.

The other two sides noted the need to complete the remaining steps to enable Iraq to move out permanently from the provisions of Chapter VII of the Charter of the United Nations.

http://bit.ly/plgGAQ





---




| | |
| --- | --- |
| 29 Aug 2011 | |

 

Iraq should abide by international law on Ashraf Camp, UN

BAGHDAD: UN delegation to Assist Iraq called the Iraqi government to abide by international law when dealing with Ashraf camp's deportation.



In a statement, copy received by Aswat al-iraq, the  delegation said "it observed with the High Commissioner for Human Rights the situation in Ashraf camp for the last few years and tried to find ways to help in accordance with Iraqi sovereignty and international law".

"The enhancement of human rights in Iraq is part of the UN mission, where it evaluates the situation in Ashraf camp and demands the protection of its population form expelling and forced movement  outside the country".

The delegation confirmed its assistance to the Iraqi government to find a peaceful solution to Ashraf camp population in accordance with international and humanitarian laws. The Iranian Mujahidi Khalq moved its leadership to Iraq in 1985, which was under the patronage of the previous regime of Saddam Hussein.

After US intrusion in Iraq in 2003, the American army took their weapons and kept them in Ashraf camp under its protection, despite calling them terrorists. Following the signature of 2008 security agreement between Baghdad and Washington, the Iraqi government was hand the responsibility for the camp which called lately to close it by the end of this year.

© Aswat Aliraq 2011




---


28 Aug 2011


UN should interfere to settle water problem in Iraq
MISSAN: An expert in southern Iraq's Marches affairs has demanded the United Nations to interfere, in order to settle the problem of waters in Iraq, instead of laying down what it called as a "nationwide vision for the administration in the Marshlands."
"The UN's report, calling for laying down a nationwide vision for the administration in the Marchlands is surpassing its time, because the problem does not lie in laying plans, but to revive the marches and restore their previous situation," Chasseb al-Moussawi told Aswat al-Iraq news agency on Sunday.
Moussawi said that "the Marshland, that had been dried out due to shortage of water, supplying them from Tigris River, must be settled by the UN through demanding Turkey to increase its water levels in the River, in order to fill back the dried areas in the Marches."
He also demanded the local administrations and the Central government in Iraq, along with the International Organizations, "to interfere, in order to lay down a plan to divide the waters among Turkey, Iraq and Syria, in order to get enough water to develop the Iraqi marches, that were dried during Iraq's previous Baath regime and had not witnessed a suitable scientific planning to restore their previous situation."
The former Iraqi regime had dried out broad areas of southern Iraq's Marshland, forcing their inhabitants, who had been living in those marches, exceeding 28,000 in al-Kheir township, 65 km to the southwest of Amara city, to exert their home town.
Amara city, the center of southern Iraq's Missan Province, is 390 km to the south of Baghdad.
© Aswat Aliraq 2011
---
UN Sec General urges Iraq to show "tangible" progress to obligations towards Kuwait
Posted: July 16, 2011 by
THE CURRENCY NEWSHOUND 
UNITED NATIONS, July 16  – UN Secretary-General Ban Ki-moon late Friday reiterated his "personal commitment" to seeing Iraq achieve full normalization of its international status.
In his quarterly report to the Security Council on the work of the United Nations Assistance Mission for Iraq (UNAMI), Ban urged Iraq to help him achieve this full normalization by demonstrating to the Security Council "tangible and expeditious" progress in implementing its outstanding obligations towards Kuwait.
It is almost seven months now since the Security Council lifted a number of Chapter VII mandates on Iraq, a move unanimously hailed as a major step towards the normalization of Iraq's international status, Ban said in the report.
"I take this opportunity to reiterate my personal commitment to seeing Iraq achieve full normalization of its international status. I therefore wish to remind the Government of Iraq of the importance of demonstrating to the Security Council tangible and expeditious progress on outstanding obligations pertaining to Kuwait, in particular, missing Kuwaiti persons and property, including archives, and the Iraq-Kuwait Boundary Maintenance Project," he said.
He also reminded Baghdad that the issue of compensation payments to Iraqi private citizens whose assets remained on Kuwaiti territory following the demarcation of the boundary between Iraq and Kuwait and pursuant to resolution 899 of 1994 is "still pending," and that the UN Department of Political Affairs is "awaiting a response" to proposals it submitted to Iraq in 2009 in this regard.
On the maintenance of the border posts, Ban said the Government of Iraq has yet to confirm its readiness to continue the Iraq-Kuwait Boundary Maintenance Project (IKBMP) and contribute its share of the additional funding – USD 600, 000 – required to complete the project. "I have yet to receive a response from the Government of Iraq to my note verbale dated 29 April 2011 requesting the Government's confirmation in this regard." "Progress on these fronts could create a positive momentum" and enable the Security Council to get Iraq completely out from under Chapter VII, he stressed. In this context, he noted, both his Special Representative Ad Melkert and the UN High-Level Coordinator Gennady Tarasov "remain committed to assisting Iraq and Kuwait in bringing closure to these long-standing Security Council mandates."
Ban commended both Kuwait and Iraq for the steps taken thus far by their respective governments towards normalizing their relations, and for their "continued efforts" to address outstanding bilateral issues. He recalled that a Joint Ministerial Committee consisting of senior officials from both countries met on 28-29 March of this year in Kuwait to discuss all outstanding issues, distinguishing between Iraq's outstanding obligations to the Security Council and other issues of bilateral interest. "The minutes of the ministerial meeting have yet to be agreed upon," he noted.
"I wish to convey my sincere hope that there will be a follow-up to the first Joint Ministerial Committee meeting held in Kuwait in March and that both parties will remain committed to finding viable solutions. I am confident that an open and honest discussion will go a long way in confidence-building between the two countries," he stressed.
Ban also noted that on 26-27 May, an Iraqi delegation, comprised of officials from the Ministries of Foreign Affairs and Transport, travelled to Kuwait to ascertain facts relating to the planned construction of the Mubarak al-Kabeer Port on Kuwait's Bubiyan Island. The delegation was sent after several members of the Iraqi Council of Representatives claimed that the proposed Kuwaiti port would affect Iraq's economic and navigational interests. The report of the delegation has been presented to the Iraqi Council of Ministers. Iraq and Kuwait continue to clarify the matter bilaterally through diplomatic channels, Ban said.
On the situation in Iraq, Ban noted that during the last few months, Baghdad expressed its commitment to improve the daily lives of the Iraqi people.
However, he added, Iraq's poverty index remains high at 22.9 per cent with a poverty gap of 4.5 per cent, with poverty levels vary considerably by governorate. Approximately 1.75 million Iraqis are estimated to be either internally displaced or refugees in neighboring countries, "constituting one of the largest displaced populations in the world."
School enrolment rates, he also indicated, have decreased at primary and secondary levels, and illiteracy rates among the poor reached 29 per cent for those aged 10 and above.
The Council is scheduled to examine the report on July 19th.
http://wp.me/pZC7o-9jQ
---

May 14th 2011

14/05/2011 19:59
Erbil, May 14 (AKnews) – The Iraqi government has made important constitutional and institutional progress with the aid of the UN, thus turning a "new leaf", said the representative of the UN's secretary general in Iraq.
Ad Melkert
Speaking at a seminar on Iraq, Ed Melkert said that the Iraqi government has effectively laid the foundations of democracy and established its strategic and economic priorities. 
Having cooperated "seriously" with the UN, Melkert said, The Iraqi government has focused on "the idea to develop the private sector, and this is good for the sustainability of the Iraqi economy."
Whilst applauding Iraq's efforts so far, the UN representative went on to say that there was still much work to be done.  
"Iraq must improve its economy through paying attention to the agricultural, energy and scientific development sectors as well as the private sector," he said.
Regarding the provision of public services and amenities to the Iraq people, a central gripe in the wave of public protests that swept through the Iraqi provinces in recent months, Melkert insisted that the current administration needed to take positive action.   
"The Iraqi government must provide adequate housing for displaced families and provide employment opportunities and services," he said.
To ensure Iraq's future economic strength, Melkert said, further strategic steps must be taken. 
"There is a need to legislate laws and act according to certain mechanisms to enable the government to enter the global economy and play an active role in international and local economic issues."  
Reported by Sirwa Horami
Rn/Ka/AKnews
---
December 15th 2010
Un Frees Iraq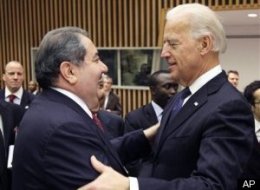 Iraqi Foreign Minister Hoshyar Zebari, left, and U.S. Vice President Joe Biden meet in the United Nations Security Council at U.N. headquarters before a meeting, Wednesday, Dec. 15, 2010. (AP Photo)
UNITED NATIONS — The U.N. Security Council gave a unanimous vote of confidence Wednesday to the significant strides Iraq has taken by lifting 19-year-old sanctions on weapons and civilian nuclear power.
The council also decided to return control of Iraq's oil and natural gas revenue to the government next summer and to settle all remaining claims over the controversial oil-for-food program, which helped ordinary Iraqis cope with sanctions imposed after Saddam Hussein's army invaded Kuwait two decades ago.
Although some sanctions will remain in place until Iraq and Kuwait settle outstanding issues from that war, Wednesday's vote was a major step to restore Iraq's international standing a year before the U.S. is to pull its last troops out of the country. It came a day after a power-sharing agreement ended a lengthy deadlock on forming a new Iraqi government.
Vice President Joe Biden, who presided over the meeting, told the council the move marked "an important milestone for the government of Iraq and people of Iraq in their ongoing effort to leave behind their troubled past and embrace a much brighter future."
"The three resolutions we've passed bring an end to the burdensome remnants of the dark era of Saddam Hussein," he said.
Biden's presence was a sign of the importance the Obama administration gave to the vote. The U.S. holds the Security Council presidency this month.
Iraqi Foreign Minister Hoshyar Zebari said the adoption of the resolutions "marks the beginning of the end of the sanctions regime and restrictions on Iraq's sovereignty, independence and recovery."
"Our key focus has been to unburden Iraq from the heavy legacy of non-compliance with international law and to break its isolation and regain its rightful place among the community of nations," he told the council.
Zebari said in an interview with The Associated Press that Biden's presence and the resolutions "showed continued American engagement with Iraq – that it's not abandoned."
Iraq has been pressing the Security Council for several years to end sanctions and cancel more than 70 resolutions adopted after Saddam's war against Kuwait.
Zebari said following the council's votes Wednesday only about a dozen resolutions remain, all related to outstanding issues between Iraq and Kuwait.
The council expressed confidence in Iraq's commitments to nonproliferation by lifting sanctions against acquiring weapons of mass destruction and long-range missiles or pursuing a civilian nuclear power program.
Iraq's constitution bars the country from acquiring weapons of mass destruction, and Baghdad is a party to most of the main nuclear, chemical, biological and missile treaties.
The council had said in February that it would lift the ban on Iraq's use of civilian nuclear power after it ratified several additional international treaties along with a protocol that allows the International Atomic Energy Agency to carry out unannounced inspections.
Iraq has not done so, mainly because of the failure to form a new government. On Wednesday, the council urged Iraq to ratify the protocol and the nuclear test ban treaty "as soon as possible." It also asked for a progress report in 12 months.
Zebari said in the interview that lifting these sanctions was "very, very significant" because it will enable the Iraqi ministries of higher education, health and agriculture to import technologies, pesticides and other materials that were banned because they had both civilian and military uses.
Ending sanctions will also enable the defense ministry to buy artillery or missiles with a range beyond 150 kilometers (90 miles), which "means that Iraq again would be a normal country like any other country," he said.
Zebari said every country should have the right to a civilian nuclear program, "but for a country like ours that has been the victims of Saddam's policies and belligerence and aggression and defiance, I think we'll think twice before going down any road close to that."
A second resolution, adopted unanimously, ends the international management of the Development Fund for Iraq on June 30, 2011. The fund was set up after Saddam's regime was toppled in 2003 to try to ensure that the proceeds of the country's gas and oil sales were used to help its people and restore its economy.
The resolution, which will end Iraq's immunity from claims on the proceeds, calls on Iraq to set up a successor mechanism. The resolution ensures that 5 percent of oil and gas revenue will still go into a compensation fund, used mainly to pay Kuwaiti claims from the war, according to a U.S. official who was not authorized to speak publicly.
The third resolution, terminating all remaining activities of the oil-for-food program, was adopted by a vote of 14-0 with France abstaining. France's U.N. Ambassador Gerard Araud said it "did not include all of the safeguards we thought was necessary for our support."
The resolution authorizes U.N. Secretary-General Ban Ki-moon to ensure that $20 million from the account is retained in escrow until Dec. 31, 2016, for U.N. expenses related to ending the program, and another $131 million to meet all other activities related to the fund including outstanding contracts.
The council said the rest of the money in the program – which U.S. officials estimate at about $650 million – should be transferred to the Development Fund for Iraq "as soon as possible."
The oil-for-food program, which ran from 1996 to 2003, allowed Iraq to sell oil so long as most of the money went to buy humanitarian goods. It was aimed at easing Iraqi suffering under U.N. sanctions and was a lifeline for 90 percent of the country's population.
But an 18-month U.N.-sanctioned investigation led by former Federal Reserve Chairman Paul Volcker found massive corruption in the program. Its final report in October 2005 accused more than 2,200 companies from some 40 countries of colluding with Saddam's regime to bilk $1.8 billion.
In May 2003, weeks after the U.S. invaded Iraq, the council lifted economic sanctions, opening the country to international trade and investment and allowing oil exports to resume. In June 2004, the council lifted an embargo on the sale of conventional weapons to the government.
Iraq's outstanding issues with Kuwait include the major obstacle of demarcating their border as well as accounting for 600 missing Kuwaitis, returning missing property and archives, and the estimated $22 billion Baghdad owes Kuwait as reparations for the invasion.
Zebari told the council "there has been positive cooperation and exchange between our two governments to resolve and settle all pending issues," but he said "Iraq still has some way to go" reach a final agreement.
Saddam's invasion of Kuwait came as the country was just recovering from a draining eight-year war with Iran. Baghdad had long been a regional power and cultured society with the highest literacy rate in Arab world – but with violence lurking just under the surface.
A U.S.-led force drove Saddam's army out of Kuwait in the 1991 Gulf War, and the U.N. then imposed the sanctions. The second war – when a U.S.-led force invaded Iraq and toppled the regime in 2003 – was ostensibly to stop Saddam from developing weapons of mass destruction. Such weapons were never found.