Iraq Situation Report 18-20 April 2015. By: Sinan Adnan, Patrick Martin, and Omar al-Dulimi
The Iraqi government seems to have successfully responded to an imminent ISIS threat on two important fronts, Ramadi and Baiji, that emerged over the course of last week. Additional ISF assets deployed to Ramadi, recapturing terrain with support from coalition airstrikes and significantly decreasing the threat of the fall of the city.
Meanwhile, additional military assets successfully retook control of the Baiji Oil Refinery. In Anbar, the reported deployment of the "Popular Mobilization" remains unconfirmed. The reported request by some Anbari leaders to deploy the "Popular Mobilization" does not necessarily represent the collective stance of Anbari leaders, and this topic likely remains the subject of intense discussion. Anbari leader Shalan al-Nimrawi stated that Anbari tribes that have been fighting ISIS agreed upon Popular Mobilization participation.
The local government did not support this participation, according to Nimrawi, until deteriorating security and the recent refugee exodus from Ramadi and surrounding areas pushed the local government to authorize PM Abadi to deploy the Popular Mobilization. Providing this authorization allows the local government to shift responsibility for the deployment to PM Abadi. An undisclosed member of the local government stated that the U.S. "notified him" that it would not provide air support to the Popular Mobilization.
This report is also unconfirmed, but is likely as it mirrors a similar U.S. stance in Tikrit. The identity of what Shi'a militias, if any, may have been deployed has not been disclosed. Their identity, whether these fighters belong to Iranian-backed militias who operate independently from the ISF or to groups of Iraqi Shi's volunteers that work under the command and control of the government, will be critical to any coordination with the United States.
Meanwhile, fear of infiltration by ISIS has complicated the procedures for IDPs entering Baghdad, exacerbating an already worsened humanitarian situation. The local government of Babil similarly decided to solely permit children, women, and the elderly into the province. The worsening situation for IDPs is likely a contributing factor to an already negative perception by Iraqi Sunnis toward their political leadership and the central government.
Source: Institute for the Study of War (ISW)
http://iraqieconomists.net/en/2015/04/22/iraq-situation-report-18-20-april-2015-by-sinan-adnan-patrick-martin-and-omar-al-dulimi/

Iraq Situation Report 2-3 June 2015. By: Theodore Bell and Patrick Martin
ISIS is once again attempting to leverage Iraqi dams to force operational recalculations on the Iraqi Security Forces (ISF).  On June 2 ISIS closed the Warrar Dam, north of Ramadi, threatening water supplies to Khalidiya and Habaniya, east of Ramadi, where the ISF and "Popular Mobilization" have staged counter-offensives since the fall of Ramadi on May 18.
Unconfirmed reports state that ISIS has also closed the Fallujah Dam, south of Fallujah. ISIS's closure of the Fallujah Dam in April 2014 caused flooding in Fallujah and Abu Ghraib and mass displacement of Fallujah residents.  The flooding in 2014 also limited ISF mobility in the area and forced the ISF to redeploy.
The ISF and "Popular Mobilization" have continued to contest the eastern and southern suburbs of Ramadi over the past week and current ISIS manipulation of water flow eastward to Baghdad likely seeks to disrupt ISF operations in Ramadi.  Alternatively, ISIS may be draining the Euphrates riverbed so that it can easily deploy reinforcements from northern Ramadi city to the south to meet the ISF and "Popular Mobilization" offensive.  ISIS may also yet seek to cause a humanitarian crisis among the 85,000 Ramadi residents displaced eastward since the fall of Ramadi.
On June 2 the Iranian-backed Iraqi Shi'a militia the Nujaba Movement (NM) reportedly destroyed an ISIS boat-borne IED as it approached Samarra Dam on the Tigris, west of Samarra city.  NM is also operating alongside, although unlikely under, the Samarra Operations Command in the Jazeera, west of Samarra.  This interaction mirrors Iraqi Shi'a militia operations elsewhere in Iraq, including in Baiji, where ISF commanders announce joint operations with the "Popular Mobilization" and the militias act as ISF force multipliers, yet remain outside of formal ISF command and control.  ISIS leveraging of Iraqi dams threaten Baghdad and majority Shi'a southern Iraq. This threat to Baghdad comes as the "Popular Mobilization", with the ISF, is fighting to secure a protective ring around the north and west of the capital as part of the "Labayk ya Iraq" ("We Are Here for You, Iraq") operation.
 http://iraqieconomists.net/en/2015/06/04/iraq-situation-report-2-3-june-2015-by-theodore-bell-and-patrick-martin/
Source: Institute for the Study of War (IWS), 4. June 2015
____________________________________________________________________

04/06/2015 (00:01 pm)
Government is committed to overcoming the difficulties in front investment .. The Parliament calls for the formation of "leadership building"
BAGHDAD / long-Presse
Deputy Prime Minister, Bahaa al-Araji, on Sunday, that Iraq has experienced a financial crisis, not an economic, enabling him to find alternatives by investing, revealing take the package decisions that will promote investment and overcome the complexities facing the work force in the country's businesses and to give priority to the efficient ones in futures contracts, while the investment committee called for the formation of the parliamentary leadership of the construction, reconstruction and investment operations in each province, to promote the movement of the reconstruction.
The deputy prime minister, in a speech during the signing of public infrastructure project for the city of residential Basmajh ceremony at the headquarters of the Investment Authority, the center of Baghdad, attended by (range Press), "The investment experience in previous years were not required level because of the complexities in the current law The conditions experienced in Iraq and the region, "adding that" the Iraqi economy is not affected by a decline in oil prices, for possession of a large stockpile of it as well as many other natural resources. " 
Araji said, that "Iraq may have suffered a financial crisis, not an economic, making the government find alternatives through investment," noting that "the investment will not be just a slogan at the current stage as it was in the previous period, as there will be no complications for the investor." 
The Vice Prime Minister, that the "Council of Ministers adopted important decisions two weeks concerning especially in the field of energy, including the abolition of the medical examination to workers in companies, and to facilitate the granting access attributes, and directing Iraqi embassies granting of investment companies and their employees, and exempting them from customs, and the development of investment by mechanism for investors not to delay the transaction, and the elimination of many of the obstacles that have hampered their work in previous years. " 
Araji said, "The government will evaluate the investment for companies operating in Iraq and give priority to efficient ones in futures contracts, particularly the South Korean company languishing."
For his part, Chairman of the Committee of Economy and parliamentary investment, Jawad al-Bolani called in a speech during the ceremony, to the "leadership of the building, reconstruction and investment operations in every province of the establishment, be similar to the lead in security operations, which succeeded in formation with varying competence of each one." 
He called al-Bolani, the Council of Ministers to "adopt this proposal in order to ensure the seriousness of the work in the provinces," returned to "the Iraqis must succeed in the reconstruction and investment, as they did in the fight against terrorism." 
The head of the Commission of Economy and parliamentary investment, keenness of the committee to "expand recreational projects and places of interest to people, and provide some of the goods that belong to well-being and civic life in general," and urged the Investment Authority and the company languishing Korean necessity of "planning to set up a factory for waste treatment and recycling in residential Basmajh, and improve the environmental situation in which to be a springboard to create awareness and environmental education in Iraq. " 
The National Investment Commission has signed earlier in the day on Sunday, holding the infrastructure project in the city of residential Basmajh languishing with executing the project company. The Committee on the economy and parliamentary investment called for in (the 29th of March 2015), to support investment and securing the appropriate atmosphere to him as "wealth" comparable to oil, and demanded that Baghdad Secretariat of the investment in the environment, while confirmed Baghdad Investment Authority, the government began worthwhile to invest seriously after that The "eyes closed" as a result of his ownership of the funds "huge" previously, showed that investment projects can provide one million jobs in the capital. 
The House of Representatives passed in October of 2006, the Iraqi investment law, which it was said at the time that it would open the doors wide the front of foreign investment, due to submit a lot of facilities to foreign investors, but that many foreign companies are still hesitant because of fears of Indeed, security is stable in Iraq, adding that the law did not give investors the right to ownership of the property the project, and equated the Iraqi investors and foreign at all privileges, with the exception of real estate ownership, as the foreign investor can lease the land for 50 years, subject to renewal, according to paragraph 11 of the Investment Law.
http://translate.google.com/translate?hl=en&ie=UTF8&prev=_t&sl=auto&tl=en&u=http://www.almadapaper.net/ar/news/459657/%25D8%25AE%25D8%25A8%25D8%25B1%25
D8%25A7%25D8%25A1-%25D8%25AD%25D8%25B0%25D9%2581-%25D8%25A3%25D8%25B5%25D9%2581%25D8%25
A7%25D8%25B1-%25D8%25A7%25D9%2584%25D8%25AF%25D9%258A%25D9%2586%25D8%25A7%25D8%25B1-%25D9%258A%25D8%25B2%25D9%258A%25D
8%25AF-%25D9%2585%25D9%2586--%25D9%2582%25D9%2588%25D8%25AA%25D9%2587-%25D8%25A3%25D9%2585&sandbox=0&usg=ALkJrhibhDXOUOqh49ZQwp2LCg_rEguyoA

******************************************************************************************************************************************************************************************************************

Their nation in pieces, Iraqis ponder what comes next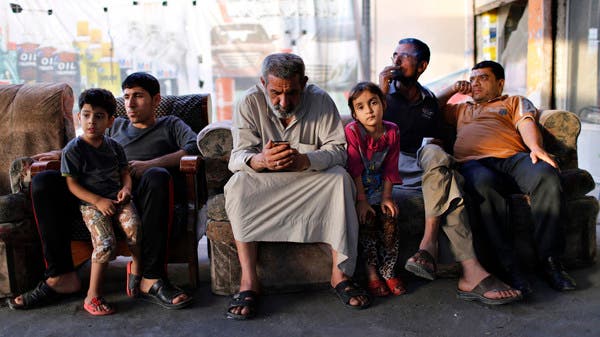 An Iraqi Shiite man (C) uses his phone as he sits at an outdoor cafe in Sadr City in Baghdad. (File photo: Reuters)
By Isabel Coles, Ahmed Rasheed and Ned Parker | Reuters, Iraq
Monday, 29 December 2014
The machine gun poking out from between a framed portrait of a Shiite imam and a stuffed toy Minnie Mouse was trained on anyone who approached the checkpoint.
Like dozens of other communities in Iraq, this small Sunni settlement in northern Salahuddin province's Tuz Khurmatu district has been reduced to rubble. In October, Shiite militiamen and Kurdish Peshmerga captured the village from the militant group Islamic State of Iraq and Syria (ISIS). The victors then laid it to waste, looting anything of value and setting fire to much of the rest. Residents have still not been allowed to return.
"Our people are burning them," said one of the Shiite militiamen when asked about the smoke drifting up from still smoldering houses. Asked why, he shrugged as if the answer was self evident.
The Shiite and Kurdish paramilitary groups now patrol the scorched landscape, eager to claim the most strategic areas or the few houses that are still intact. For now, the two forces are convenient but uncomfortable allies against the nihilist ISIS.
This is how the new Iraq is being forged: block by block, house by house, village by village, mostly out of sight and control of officials in Baghdad.
What is emerging is a different country to the one that existed before June. That month, Iraq's military and national police, rotten with corruption and sectarian politics, collapsed after ISIS forces attacked Mosul. The militant group's victory in the largest city in the north was one step on its remarkable dash across Iraq.
ISIS's campaign slowed towards the end of the summer. But it has left the group in charge of roughly one-third of Iraq, including huge swathes of its western desert and parts of its war ravaged central belt. It also shattered the illusion of a unified and functioning state, triggering multiple sectarian fractures and pushing rival groups to protect their turf or be destroyed.
The far north is now effectively an independent Kurdish region that has expanded into oil-rich Kirkuk, long disputed between the Kurds and Iraqi Arabs. Other areas in the north have fallen to Shiite militias and Kurdish Peshmerga fighters, who claim land where they can.
In Baghdad's rural outskirts and in the Diyala province to the east and north towards Samarra, militias, sometimes backed by Iraqi military, are seizing land and destroying houses in Sunni areas.
Last there is Baghdad and Iraq's southern provinces, which are ostensibly still ruled by the country's Shiite-led government. But the state is a shell of what it once was. As respect for the army and police has faded, Iraqis in the south have turned to the Shiite militia groups who responded to the rallying cry of Iraq's most senior clergy to take on ISIS.
Prime Minister Haider al-Abadi, a Shiite moderate who became Iraq's new leader in September, four months after national elections, hopes that the country can be stitched back together. Abadi has tried to engage the three main communities, taking a more conciliatory tone than that of his predecessor Nuri al-Maliki, who was often confrontational and divisive. Abadi, the Kurds and even some Sunni politicians now all speak of the need for federal regions, so the country's communities can govern themselves and remain part of a unified state.
Iraq, though, has been splintered into more than just three parts, and the longer those fragments exist on their own the harder it will be to rebuild the country even as a loose federation. Such an arrangement would require the defeat of ISIS, a massive rebuilding program in the Sunni regions, unity among Iraq's fractious political and tribal leaders, and an accommodation between the Kurds and Baghdad on the Kurds' territorial gains.
Even the optimists recognize all that will be difficult. Finance Minister Hoshiyar Zebari, a Kurd who wants Iraq to stay united, says he can picture Iraq eventually regaining its "strength and balance." But, he concedes, "the country is severely fractured right now."
Ali Allawi, a former minister of trade, defense and finance, and author of two books on Iraqi history, agrees. "There is so much up in the air," he said. "There are the trappings of a functioning state, but it is like a functioning state lying on a sea of Jello...The ground is so unstable and shifting."
Kurdistan
Iraq's Kurds often see opportunity in times of trouble. This year they moved quickly to take lands long disputed with Arab Iraqis, including Kirkuk. For a while, talk of secession increased, but then quieted after ISIS mounted a successful attack into Kurdistan in August. Since then, buoyed by U.S. air strikes designed to hurt ISIS, the Kurds have recaptured areas they lost and forged an agreement to export oil from Kirkuk and its own fields for Baghdad.
Kurdish business tycoon Sirwan Barzani, a nephew of Iraqi Kurdish President Masoud Barzani, sees this as a moment to advance his people's nationalist dream. He was in Paris chairing a board meeting of the telecom company he founded in 2000 when he received news that ISIS militants had overrun Mosul. A former Peshmerga fighter in the 1980s, he canceled his holiday plans in Marbella and rushed back to Kurdistan to help prepare for war, taking command of Peshmerga forces along a 130 kilometer stretch of the Kurds' front line with ISIS.
Washington sees the Kurds as its most dependable ally in Iraq. For Barzani and other Kurds, though, the fight against ISIS is simply the continuation of a long struggle for an independent nation.
Before leading an offensive last month to drive ISIS militants back across the river Zab towards Mosul, Barzani said he met with an American general to talk strategy and coordinate airstrikes.
"They asked about my plan," Barzani told Reuters in a military base on the frontline near Gwer, 48 kilometers south of the Iraqi Kurdish capital Erbil. "I said, 'My plan is to change the Sykes-Picot agreement'" – a reference to the 1916 agreement between France and Britain that marked out what would become the borders of today's Middle East.
"Iraq is not real," Barzani said. "It exists only on the map. The country is killing itself. The Shiites and Sunnis cannot live together. How can they expect us to live with them? Our culture is different. The mentality of Kurds is different.
"We want a divorce."
The Sunnis
Where Kurds saw opportunity in 2014, Iraq's Sunnis saw endless turmoil and new oppression. Residents in the western and northern cities of Mosul, Tikrit and Falluja – all now controlled by ISIS– complain about fuel and water shortages, and ISIS directives that women cover themselves and smokers be fined. They tell stories about the destruction wrought by shelling by the Iraqi government and U.S. forces.
In places where Sunnis themselves are battling ISIS, the brutality can be unrelenting. Many wonder what will be left when the war finishes and whether it will be possible for Sunnis to reconcile even among themselves.
Sheikh Ali Abed al-Fraih has spent months fighting ISIS. A tribal soldier in Anbar province, he has sunken, tired eyes and a frown. His clothes are one size too big for him. He sees the conflict as an internal battle among the Anbar tribes. Some have chosen to join ISIS, others to fight the group. Some of his enemies, he says, are from his own clan. The fight will not end even if areas around his town of Haditha and other Anbar cities are cleared, he says. All sides will want revenge. "Blood demands blood. Anbar will never stop."
Fraih flew to Baghdad in late December to beg the government to send help to Haditha, which is pinned to the west and east by ISIS and defended by a five kilometer-long berm. Fraih could only reach Baghdad by military plane. The government had promised for two months to send food and medicine, but no help had come. The week before Christmas the government told him help would come in a week. Fraih tried be polite about the promise, but it's hard.
"It's all words," he said.
Every day, tribal fighters and Iraqi soldiers in Haditha stop ISIS assaults and defend the city's massive dam. If ISIS take the dam they could flood Anbar and choke off water supplies to the Shiite south. The army, in particular, is struggling, he said. "In every fight the army loses 50 soldiers. Their vehicles get destroyed, they are short on fuel, and no new vehicles are coming. They are hurting more than my own men."
The city's one lifeline to the outside world is a huge government airbase called Ain al-Assad, some 36 kilometer south. Fraih recently met U.S. Special Forces there. They assured him that if ISIS breaks through the barriers to Haditha, the U.S. will carry out air strikes. The logic confuses Fraih. "They know the people have no food, no weapons, no ammunition, nothing. We are sinking. If you are not going to help us, at least take us to the south and north. We are dying now."
His faith in getting help from anyone has almost vanished.
"What is left of Iraq if it keeps moving this way?" he asked.
The Shiites
In a house on the outskirts of Baghdad, a Shiite tribal leader sat and imagined his world as "a dark tunnel with no light" at its end.
"Iraq is not a country now," he said. "It was before Mosul."
The sheikh, who spoke on condition of anonymity, would like to see his country reunited but suspects Abadi is too weak to counter the many forces working against him. Now the Shiite militias and Iran, whom the sheikh fought in the 1980s, are his protectors. It is a situation he accepts with a grim inevitability.
"We are like a sinking ship. Whoever gives you a hand lifting you from the sea whether enemy or friend, you take it without seeing his face because he is there."
Iranian-advised paramilitaries now visit his house regularly. He has come to enjoy the Iranian commander of a branch of the Khorasani Brigades, a group named for a region in northeastern Iran. The commander likes to joke, speaks good Arabic and has an easy way, while other fighters speak only Persian, the sheikh said. He expresses appreciation for their defense of his relatives in the Shiite town of Balad, which is under assault from ISIS.
The sheikh's changing perceptions are shared by other Iraqi Shiites. They once viewed Iran as the enemy but now see their neighbor as Iraq's one real friend. The streets of Baghdad and southern Iraq are decorated with images of Iran's supreme leader Ayatollah Ali Khamenei.
The sheikh, though, does not believe he can rely on Iran altogether. He is sure some Iranian-backed militiamen would happily kill him. He has heard of one case in Diyala where a militia leader shot dead the son of a popular Shiite tribal leader. He has also watched as militia fighters aligned with police and army officers kidnapped a cousin and a friend for ransom. "I feel threatened by their bad elements," he said of the militias.
If the state doesn't rebuild its military quickly and replace the multiple groups now patrolling the lands, the sheikh fears Shiite parts of Iraq will descend further into lawlessness. "It will be chaos like the old times, where strong tribes take land from the weak tribe. Militias fight militias," he said. "It will be the rule of the jungle, where the strong animal eats the weak.
Fear and apprehension among leaders (National Alliance) from the re-election of Obama
2012-11-08 15: 38: 30
---
Baghdad (IBA) ...Despite the fact that the Shiite Alliance, who heads the Iraqi Government headed by Maliki, was comfortable for us President Barack Obama's policies in first presidential term but the fears and uncertainty returned to the leadership of the Coalition because of his re-election to a second term.
And leading Shiite Alliance finds that Obama in his second term will be more robust in dealing with the Iraqi file and that Shiite leaders expect him to more interventionist policies on internal differences between Al-Maliki and Kurdish regional President Massoud Barzani, President of Iraqi Prime Minister Iyad Allawi's Coalition on the other hand, unlike the previous four years, Nye for interference in these differences and avoid pressure on Iraqi Prime Minister, as he embraces the idea that Iraqis must resolve their differences themselves.
He said Iraqi Deputy Ahmed Al-alwani policy that President Obama team signals that interest us Iraq will double for two reasons first: is mounting a internal differences that threaten to break the political process sponsored by the United States since 2003 if Al-Maliki by his confrontational and heavy-handed with its partners, the developments of the Syrian and Iranian nuclear files, these developments have made the Iraq that mediates these two geopolitical station vital for any international moves to deal with these two pronged approach, adding that Obama and Vice-President Joe Biden On the Iraqi file will work in second presidential period to revive the strong American role in Iraq and weaken Iran's influence in the region and will continue to position us on the situation by leaving the Iraqi arena is open for Iranian leaders.
In the same context, a prominent leader in the Kurdistan Democratic Party (KDP) led by Massoud Barzani for President Obama policy will not allow Al-Maliki to destroy the democratic political process in Iraq and that a new phase of work will appear in the coming months of his second term, stressing that American pressure would grow on the Iraqi Prime Minister to carry out radical reforms in respect of the partnership in governanc
---
UPDATE 2-Iraq's cabinet approves 2013 draft budget of $118 bln
* based on a world oil price of $90 a barrel
* budget deficit will be estimated at 18.8 trillion dinars
(Adds quote, details, background)
By Aseel Kami
BAGHDAD, Oct 23 (Reuters) - Iraq's cabinet approved a 2013 draft budget of 138 trillion Iraqi dinars ($118.6 billion) based on a world oil price of $90 a barrel and expected oil exports of 2.9 million barrels per day (BPD), Iraqi officials said on Tuesday.
Iraq has the world's fourth-largest oil reserves and depends on oil revenues to fund 95 percent of its national budget.
"The cabinet approved the 2013 budget with 138 trillion dinars and it will send it to parliament for final approval," said Ali al-Moussawi, Iraqi Prime Minister Nuri al-Maliki's media advisor.
The projected oil exports include 250,000 BPD from the semi-autonomous region of Kurdistan, and federal revenues of $102 bln, government spokesman Ali al-Dabbagh said in a statement.
The budget deficit will be estimated at 18.8 trillion dinars ($16.17 billion), he said.
That will be covered by unused funds from the 2012 budget, funds in the Development Fund of Iraq (DFI) account at the New York Federal Reserve, local debt issued through treasury bonds, or from an expected surplus from higher oil prices.
Since parliament only approved the 2012 budget of $100 billion in February, many government offices have not spent their allocations.
The DFI was established after the 2003 U.S.-led invasion of Iraq in order to direct oil revenues to reconstruction and food programmes for Iraqis. Iraq holds the bulk of proceeds from its oil export sales in the DFI.
Oil prices were at $108 a barrel on Tuesday.
The $118.6 billion budget included 55 trillion Iraqi dinars ($47.29 billion) for investment projects.
OPEC-member Iraq exported an average of 2.6 million barrels per day (bpd) in September, the highest total crude exports in decades, and aims to boost shipments to above 2.8 million bpd this month.
It also aims to double its output over the next three years after decades of neglect of infrastructure due to war and economic sanctions.
($1 = 1163.0000 Iraqi dinars)
(Reporting by Aseel Kami; editing by Patrick Markey, Ron Askew)
((aseel.kami@thomsonreuters.com)( 
+964 7901 917 031 )(Reuters Messaging: aseel.kami.reuters.com@reuters.net))
Keywords: IRAQ ECONOMY/BUDGET
UPDATE 1-Iraq's cabinet approves 2013 draft budget for $118 bln
(Adds quote, background)
BAGHDAD, Oct 23 (Reuters) - Iraq's cabinet approved a 2013 draft budget of 138 trillion Iraqi dinars or $118.6 billion on Tuesday, and the proposal will be handed to parliament for final endorsement, Iraqi Prime Minister Nuri al-Maliki's media advisor said.
Iraq has the world's fourth-largest oil reserves and depends on oil revenues to fund 95 percent of its national budget.
"The cabinet approved the 2013 budget with 138 trillion dinars and it will send it to parliament for final approval," said Ali al-Moussawi.
OPEC-member Iraq exported an average of 2.6 million barrels per day (bpd) in September, the highest total crude exports in decades, and aims to boost shipments to above 2.8 million bpd this month.
It also aims to double its output over the next three years after decades of neglect of infrastructure due to war and economic sanctions. ($1 = 1163.0000 Iraqi dinars)
(Reporting by Aseel Kami; editing by Patrick Markey)
((aseel.kami@thomsonreuters.com)( 
+964 7901 917 031 )(Reuters Messaging: aseel.kami.reuters.com@reuters.net))
Keywords: IRAQ ECONOMY/BUDGET
---
Renewed Violence in Iraq
Contingency Planning Memorandum No. 15
Author: Douglas A. Ollivant, Senior National Security Fellow, New America Foundation

Publisher Council on Foreign Relations Press
Release Date August 2012
Introduction
Iraq remains a fragile state deeply traumatized and riven by thirty years of war, sanctions, occupation, and civil strife. Although there are numerous positive signs of progress in Iraq—violence has fallen to its lowest level since 2003, its economy is growing modestly, oil production recently surpassed that of Iran, and foreign investment is beginning to restore infrastructure decayed by years of war and sanctions—the risk of acute instability and renewed conflict remains. Already, in the wake of the U.S. military withdrawal in December 2011, Iraq has seen a fierce political struggle between Prime Minister Nouri al-Maliki and many of his rivals in the Sunni-dominated Iraqiya parliamentary coalition, plus increasing tension with at least some segments of the Kurdish minority. For the positive trends to continue, Iraq will need to contain various threats to internal stability and weather regional turmoil that could worsen significantly in the coming months. The United States has a significant stake in helping Iraq overcome these challenges; Iraq is a critical state within a critical region.
The Contingency
The most serious risks to Iraq's internal instability come from the overlapping and interacting effects of renewed ethnic or sectarian conflict, on the one hand, and an irreversible breakdown of the current constitutional order, on the other. Either of these conflicts could arise along any of the major fault lines in Iraq: Shia-Sunni, Arab-Kurd, or intra-Shia. Further, either of these contingencies could spark the other, as political declarations enflame ethno-sectarian tensions, or ethno-sectarian conflict spurs political declarations of independence or withdrawal from the political system. To complicate matters, turmoil in the region could also spill over into Iraq and exacerbate internal tensions.
Ethno-Sectarian Conflict
Although Shia versus Sunni violence was the main driver of the calamitous 2003–2008 civil war in Iraq, the risk of renewed conflict between these two sectarian groups has lessened because they are no longer significantly intermingled in population centers, making it difficult for one to attack the other. Also, when terrorist attacks have occurred against Shia civilians—often pilgrims—conducted by al-Qaeda in Iraq (AQI), the principal Shia groups have remained calm, probably because they believe that the Sunnis cannot reverse their defeat in the civil war. Nevertheless, it is possible that a highly successful AQI campaign could spur Shia rage to a point that regenerated or impromptu militias would conduct large-scale retaliatory attacks against perceived AQI safe havens in Sunni-populated areas.
Potential Arab-Kurd violence is also a major concern. The continuing tensions between the Kurdistan Regional Government (KRG) and the central government in Baghdad over the contested territories (known as "Disputed Internal Boundaries," or DIBs) could spark Arab-Kurd violence on a border that has had a tentative peace since the overthrow of the Baathist regime in 2003. The establishment of the joint patrols by Kurdish militias (known as "Peshmerga") and Iraqi Security Forces (ISF) achieved in the final days of the U.S. military presence in Iraq has greatly helped reduce tensions. However, it is possible to envision several ways in which these armed forces in close proximity could engage in violence, particularly if driven by local political disputes—even something as simple as two young soldiers on each side fighting over perceived honor.
Finally, intra-Shia violence remains a real possibility. The tenuous peace among the major Shia factions has held since the end of the final battle for Sadr City in mid-2008. While the major factions will occasionally criticize each other, they will generally behave as a bloc to preserve Shia unity when necessary. Similarly, the armed factions of these groups appear to have either integrated into the security forces or demobilized, with a few small but notable exceptions. However, there are circumstances in which Shia on Shia violence could reemerge. The most probable scenarios are the death—whether accidental or natural—of a major Shia figure such as Maliki or Grand Ayatollah Ali al-Sistani that would put questions of relative power within the Shia community back in play.
Breakdown of Constitutional Order
To date, the tenuous political bargain struck in 2010 that largely revalidated the existing status quo, has held. Maliki is to some extent checked by a Kurdish president and a Sunni speaker of the parliament, and most critically by the parliament itself. This tenuous equilibrium, however, is showing signs of increasing strain. The Iraqiya party and a faction within the Kurdish parliamentary bloc, the Kurdish Democratic Party, have accused Maliki of overreach and creeping authoritarianism. Three relatively minor crises have further exacerbated tensions. First, Vice President Tariq al-Hashemi, a Sunni member of Iraqiya, was charged with murder but has fled to Turkey via Kurdistan. Second, two senior members of the electoral commission were detained on corruption charges. Third, tensions between the Iraqi central government and the KRG have risen over oil revenue disputes and Exxon's controversial decision to sign a contract with KRG to develop oil fields partly within the DIBs. While each of these issues could potentially be resolved in isolation, they are unfolding simultaneously to the point where they could eventually overwhelm the Iraqi government's capacity to manage them, triggering a major constitutional crisis.
What would happen next is uncertain. On the face of it, a coalition of the two factions unhappiest with the current status quo—Iraqiya and at least some Kurdish parliamentarians—seems unlikely to coalesce for the purpose of exploiting such a crisis since they have the most powerful disagreement over the DIBs. Furthermore, the elites within both Iraqiya and the KDP might calculate that unseating Maliki would be suicidal with their electoral bases. Other factions, however, may see things differently and decide to take advantage of a deepening constitutional crisis to try to break up the Iraqi state (such as through a declaration of Kurdish independence and/or a concerted push for Sunni "federalism"—an attempt to set up a separate Sunni region analogous to the KRG). An uptick in low-level violence along the principal ethno-sectarian fault lines is clearly plausible in such circumstances, which would only exacerbate the crisis. External events, furthermore, such as a worsening civil war in Syria and/or domestic unrest in Iran that "bleeds" over into Iraq, could likewise trigger or accelerate a breakdown of the constitutional order.
Warning Indicators
A core challenge in Iraq is making sense of a vast kaleidoscope of events in real time. Events that look like a crisis today can look like a precursor to stability months later; and, months of stability can later seem to be a mere cease-fire in an ongoing conflict. In particular, it is difficult to distinguish between the low-level recurrent terrorist violence that has become background noise—however regrettable—in Iraq, and political violence that truly indicates one of the factions has abandoned the political process. The latter is a key indicator; the former, unfortunately, is just daily business. Similarly, the line between the loud, seemingly irresponsible posturing that has come to characterize Iraqi politics and true imminent political breakdown is also very difficult for outsiders (and perhaps insiders as well) to find. The following warning indicators should aid critical thinking and help U.S. officials channel limited time and resources to critical problem areas:
Severe government repression. The arbitrary use of state power to repress and/or isolate minority groups can give rise to nonstate actors remobilizing an armed resistance against the state. Such explicit repression could be an indicator of either an outbreak of sectarian violence or a breakdown in constitutional order. It is worth noting that "repression" can be a difficult concept to define and operationalize in an immature and ill-defined political system, but indicators could include widespread illegal and/or arbitrary detentions, use of violence to quell demonstrations, arrest of journalists, and organized use of torture.
Retaliation by Shia militias to AQI attacks. One of the more encouraging indicators in Iraq has been the absence of a Shia militia response to AQI attacks on Shia civilians. Should patience grow thin and an AQI attack be followed by a Shia response on Sunni civilians, this would indicate that the cycle of Shia-Sunni sectarian violence may be regenerating.
Withdrawal of forces supporting the government. The wholesale withdrawal of one sectarian or ethnic community from politics would accelerate a weakening of state authority in critical areas of Iraq. It is important to distinguish between the tug-and-pull of parliamentary politics with boycotts by blocs or parts of blocs and the wholesale withdrawal from the political process. The latter is a warning indicator of a breakdown in constitutional order; the former is the nature of politics in Iraq.
Declarations of secession. Sunni-dominated provinces have recently demanded broader autonomy from the central government in Baghdad. That is a feature of Iraq's constitutional design. If these calls lead to an organized effort to secede, however, the future of Iraq as a viable state will be in jeopardy. Similarly, KRG president Massoud Barzani has also given hints of declaring full independence, despite the lack of a current revenue source independent of Baghdad. Either event would serve as an indicator for a breakdown in constitutional order.
New foreign support to militants. Shia and Sunni extremists will retain the capacity to attack the government and Iraqi civilians. If these groups begin receiving significant new foreign support—from Iran on the Shia side or from Saudi Arabia and other Gulf states on the Sunni side—the likelihood of ethno-sectarian violence increases. Iraq risks becoming a proxy battleground in a wider regional struggle with the front lines running through central Baghdad.
Governing coalition excludes minority faction. It remains to be seen whether Maliki in his recent moves against two Sunni leaders seeks to purge Sunnis from the government or seeks a new equilibrium with a narrower but cross-sectarian coalition. How the present crisis is resolved will say a lot about this indicator and the functionality of the Iraqi government over the next eighteen months. Long-term exclusion of Sunni interests from the central government would leave them without a political voice and would be an indicator for both ethno-sectarian violence and a constitutional breakdown.
Delay or cancellation of 2013 provincial elections or 2014 parliamentary elections. Iraq's fragile legitimacy rests on the democratic mandate of its electoral process. Should the elections be delayed due to an issue with the Independent High Electoral Commission, the absence of an elections law, or security concerns (real or imagined), democratic legitimacy would be put in question, further destabilizing Iraqi politics.
New coordination among militant groups. Isolation of Shia and Sunni militants from their communities inside Iraq has been critical to increasing stability. Signs that AQI is rebuilding links with dormant Sunni insurgent groups and/or extreme Shia militias such as Hezbollah in Iraq are reestablishing links with the dormant Jaysh al-Mahdi militia will be a serious warning indicator of renewed conflict and the emergence of ethno-sectarian violence.
Breakdown of ISF-Peshmerga cooperation along the KRG boundary. Existing joint patrols along the KRG boundary with Iraq proper provide an important practical and symbolic indicator of the intention to peacefully resolve disputed boundaries. Were either or both sides to decide to discontinue this practice, it would be an indicator of both Arab-Kurd ethno-sectarian violence and a constitutional breakdown.
Implications for U.S. Interests
Despite public fatigue in America over Iraq, the United States retains a substantial national interest in seeing the emergence of a stable and successful Arab democracy—especially one that the United States has invested so heavily to promote—that will reinforce other positive developments in the Middle East. Iraq is a central player in several unfolding regional contests that have major implications for U.S. national security interests. As the recent hosting of the "P5+1" nuclear negotiations on Iran and Iraq's banning of Iranian weapon shipments to Syria indicate, Iraq is an emerging regional power that will play a significant role in Iran's political evolution, particularly as Iraq's parliamentary democracy and quietist Shia tradition are a standing challenge to the legitimacy of the Iranian theocracy.
Iraq is also not only an influencer but a participant in the "Arab-Persian" axis. It is primarily an Arab country like much of the Middle East, but it has a Shia majority like Iran that exercises political control. Similarly, Iraq is a frontline state in the conflict between moderate Islam and al-Qaeda, a battle for ideas that will continue to be of major import in the fight against terrorism. Iraq has a significant minority Kurdish population, a distinction it shares with the otherwise dissimilar Iranian, Turkish, and Syrian regimes. With the world's fifth-largest oil reserves, Iraq's output can stabilize or roil markets, directly affecting the U.S. economy. As Iraq moves back into the Organization of Petroleum Exporting Countries (OPEC) quota system, how it aligns within the organization—whether with the stability-oriented bloc of Saudi Arabia and the Gulf States or with the more ideological bloc led by Iran and Venezuela—will have clear implications for U.S. energy policy.
Further, U.S. interests in a stable Iraq are shared by virtually all states that have an interest in either democracy and/or stable oil production. Due to the U.S. history with Iraq, the world will continue to look for U.S. leadership in maintaining Iraq's stability and progress.
Preventive Options
Since the withdrawal of U.S. military forces, the ability of the United States to influence the course of events in Iraq has sharply diminished but not disappeared. Through steady and balanced engagement using a variety of measures at its disposal, the United States can still influence the behavior of the principal local and national leaders, as well as facilitate compromises between competing political blocs. Depending on the nature of the contingency, a host of measures can be employed to help the Iraqi authorities manage internal threats or induce various players to desist from actions deemed inimical to U.S. interests. The following policy options could be used to entice cooperation with the United States:
Implement military dimensions of Strategic Framework Agreement (SFA). The SFA between the United States and Iraq, signed in 2008, envisions a robust level of defense cooperation. However, the strict interpretation of the expired Status of Forces Agreement deprived Iraq of virtually all U.S. military assistance. The United States could immediately seek to offer intelligence assistance to Iraq in its fight against AQI—clearly a shared interest—as well as begin negotiations for a regional military exercise with U.S. and Iraqi forces to occur outside of Iraqi territory. This could also involve naval assistance in patrolling Iraqi offshore oil infrastructure.
Implement the SFA's nonmilitary dimension. The SFA also envisions a robust array of educational, cultural, and economic ties between the United States and Iraq. It has not gone unnoticed that, while the United States has stood up a strong Office of Military Cooperation, movement in the nonmilitary realm has been much slower. A vigorous program of public-private partnerships originating in both countries, perhaps modeled on the Foreign Military Sales program but in the non-defense space, could significantly accelerate the process of creating stronger subnational ties. While this will take some time to develop, this could move stability efforts from the relatively weak realm of diplomacy to the much stronger world of economic self-interest.
Reinforce and support the United Nations Assistance Mission in Iraq (UNAMI). UNAMI has been a tirelessly positive actor in Iraq. The United States could both diplomatically support and rhetorically reinforce the critical work of UNAMI, particularly in regard to disputed boundaries, constitutional interpretation and implementation, and electoral monitoring—issues on which the U.S. embassy in Baghdad should be deeply engaged. With the departure of the U.S. military presence, consideration should be given to both expanding the mandate of UNAMI to explicitly deal with sectarian tensions.
Encourage Iraq's further integration into Arab institutions. While members of the Arab League are hardly model democracies, Iraq's integration into these institutions could both assist in development of institutional capacity and strongly reassure Iraq's Sunni population that the Shia-led government is as committed to its Arab identity as to its Shiism. This option would involve active lobbying of Sunni Arab states by the United States.
Promote Turkish-Iraqi relations. To help Iraq manage internal threats and reduce tensions in the region, the United States can use its influence in Ankara and Baghdad to build better relations between these two democratic neighbors that have historically not been close. The United States could begin with a relatively benign issue—perhaps water disputes between the two states—with an end goal of increasing familiarity and ties that move beyond the issue at hand. Turkey, as a NATO member, could also serve as a conduit for Western military assistance to counter the AQI threat.
In short, the more that Iraq can be integrated in a host of bilateral and multilateral political frameworks, the more resilience Iraq will have to weather various destabilizing developments.
In the second category of preventive measures designed to induce Iraqi actors that are perceived as moving policy against U.S. interests, the United States could consider the following policy options:
Suspend arms sales. Potentially the largest "stick" in the U.S. arsenal, this option is also fraught with hazard. First, the cancellation of a U.S. arms sale would almost certainly be backfilled by a competitor firm from Europe or elsewhere, as the Iraqis have a sizeable reserve of petrodollars. Second, the United States has a serious interest in utilizing third parties to maintain the U.S. defense industrial base during a time of declining defense budgets. Finally, implementing this option would signal a break in U.S.-Iraq ties, which would be difficult to reestablish.
Suspend or place conditions on foreign assistance. Cutting off of U.S. foreign assistance, while signaling diplomatic displeasure, would likely have little practical effect. While the fiscal year 2012 requested State Department expenditures in Iraq exceeds two billion dollars, the vast majority of it will be spent supporting the various U.S. facilities in Iraq, with only a "few" hundred million dollars going to improve Iraqi quality of life. These monies could be easily replaced with Iraqi petrodollars and might even be welcomed by some in Iraq as a further removal of "occupation." Attempts to condition aid would face similar difficulties and perhaps even more nationalist resistance.
It is important to note that none of the preventive options involve a return of U.S. military forces to Iraq. Given recent historical experience, such an option would almost certainly not be welcomed and most likely resisted, totally independent of the political difficulty—approaching impossibility—that proposed troop redeployments to Iraq would face in the United States. Iraqis of all stripes are developing a nationalism that, while frustrating to the United States at times, may be an underlying factor that makes either contingency less likely. But this same nationalism would make any ground intervention an inflammatory measure. It would also likely make a North Atlantic Treaty Organization or even UN intervention similarly problematic. This calculus might well change, however, were any of the contingencies already under way.
Mitigating Options
Should the political process in Iraq begin to break down, the United States should use its influence, and that of all multilateral and bilateral actors it can muster, to get the relevant actors back to the negotiating table, whether in Baghdad or elsewhere, to resolve their differences peacefully and ensure that Iraq remains a unified state. Beyond general exhortations, however, the choice of policy options to mitigate renewed conflict should clearly be informed by the nature of the triggering events, the subsequent trajectory of the crisis, and the scale of the violence.
If Iraq reverts to authoritarianism, the United States can draw from a standard menu of policy options to induce the government to restore the democratic process. These include diplomatic pressure (bilaterally and in multilateral forums), the cessation of assistance programs, and a variety of political and economic sanctions. Much will depend on the authoritarian character of the new government, particularly whether it represents a return to an extreme "Saddam-like" rule or a much less repressive form. In the event of purges of minority groups or open ethno-sectarian conflict, the United States cannot stand by, but it also should recognize its limitations in devising a response.
Were civil conflict to break out within Iraq, the United States could assist the Iraqi government in various ways to restore order and prevent the violent breakup of the country. This includes the provision of intelligence (for example, on the presence of foreign fighters and flow of arms into Iraq) as well as other forms of security assistance. The U.S. military, however, would not be able to play an on-the-ground role due to both U.S. and Iraqi domestic political sensitivities. Should the violence escalate beyond the capacity of the Iraqi government to manage, the United States can be a strong proponent of UN or other multilateral initiatives. These include:
Sponsor a "Friends of Iraq" contact group. This group (most likely excluding Iran and Syria) would act to coordinate bilateral and multilateral efforts short of military intervention to pressure the warring groups to adopt a cease-fire and begin a negotiated settlement. The efforts might also include various humanitarian measures to protect civilians.
Sponsor a multilateral peacekeeping mission to restore order. A truly multilateral approach with unquestioned international legitimacy could possibly settle local violence and allow a political process to reemerge. However, finding national contingents that would be acceptable to all sides, and who would be willing to participate in an Iraq mission, could be problematic.
Threaten diplomatic isolation/recognition. The United States could seek to tamp down political passions by either making clear its support for a unified Iraq or—should it find the central government's actions to be the cause of the crisis—indicating that it might recognize breakaway political units.
Recommendations
The months leading to the 2014 Iraqi parliamentary elections are critical for Iraq. The elections will enable Iraqis to conduct a referendum on Maliki's performance and that of his State of Law coalition. But, ethno-sectarian violence and a breakdown in constitutional order threaten Iraq's ability to get to this peaceful referendum. The United States should therefore watch for and guard against, as well as—if necessary—contain and reverse these threats given its important interests in Iraq. Due to the history of the U.S. presence in Iraq, any action should be very carefully weighed to avoid unintended consequences. By engaging both directly in Iraq and encouraging responsible states and institutions to do the same, the United States can salvage some benefits from flawed decisions and cement a partner—though not a puppet—in the region
It will be far easier to forestall a new civil conflict than to broker a cease-fire after the shooting starts. Thus, the United States should begin implementing the preventive measures discussed above. Specifically, it should take the following steps:
Monitor events on the ground. Special care should be taken to get as accurate and dispassionate a picture as possible of both the security and political situations in Baghdad and throughout the country. Without the U.S. military presence, it is ever more difficult to verify security incidents and to discern political developments. The Unites States should thus prioritize the monitoring of both these realms to provide early warning of potential crises. Events in Iraq are particularly susceptible to reinterpretation by all partisans, so it is incumbent on the United States to maintain its focus with this important ally.
Be a proponent of the electoral process. The United States will continue to work primarily with Maliki not because he is "the U.S. guy," but because he is the duly elected prime minister of a parliamentary democracy. If Maliki loses a no-confidence vote and another government forms, the United States should be equally supportive of the new prime minster. Above all, the United States should make clear that it would find any suspension of, or irregularity within, the next parliamentary elections in 2014 severely problematic. Achieving another round of elections in 2014 (and provincial elections in 2013) will likely better establish the political strength of all the factions and increasingly mature the political system.
Collaborate closely with the UN. UNAMI now deals directly with the bulk of critical issues facing Iraq (e.g., disputed boundaries), and thus U.S. interests are greatly served by the mission's efforts to resolve these issues. Close collaboration does not, of course, require the United States to contribute resources, which might taint the perceived neutrality of the UN mission. But the U.S. embassy in Baghdad should go out of its way to make UNAMI a partner in both word and deed. These first two recommendations nest closely together, as the UN is as vested in the electoral process as is the United States.
Promote continued integration into the Arab League. Baghdad's hosting of the March 2012 Arab League Conference was an important step forward for regional integration. The willingness of the Shia government to accept criticism from the non-democratic Sunni states demonstrates considerable political maturity. To the extent that Baghdad continues to participate in the Arab League, this should greatly assist in minimizing Shia-Sunni tensions and reduce the possibility of violence or political crisis along that axis.
Fully implement both the SFA's military and nonmilitary components. While the United States should specifically offer counterterrorism intelligence assistance under the "security" umbrella of this agreement, it is equally important to build lasting state-to-state, and person-to-person, relationships via cultural programs, educational exchanges, and—above all—joint business ventures. These ties can build a more robust Iraqi citizenry and civil society, thereby reducing the likelihood of either contingency in the long term.
Promote ties with Turkey. U.S. interests would be greatly served by closer ties between Ankara and Baghdad. The immediate effect might be a reduction of tensions over Kurdistan with other positive externalities eventually emerging should stronger ties develop between these two emerging regional powers. This could start with a series of bilateral meetings sponsored by the U.S. missions in Baghdad and Ankara.
The net effect of these policy options is intended to keep all parties engaged with external stakeholders (particularly their perceived patrons), while maintaining the commitment to democracy. Again, U.S. leadership in such a crisis will be critical, though almost all nations share an interest in Iraqi stability. The United States' continued engagement will greatly reduce the likelihood of ethno-sectarian conflict and a breakdown of the constitutional order in Iraq.
---
Iraqi Speaker Warns of Neighboring Countries Meddling After U.S. Troops Leave
Published October 24, 2011 Associated Press
BAGHDAD –  The speaker of Iraq's parliament on Monday accused neighboring nations of meddling in Iraqi affairs and signaled it will only get worse if the country is seen as vulnerable after U.S. troops leave at the end of the year.
Speaker Osama al-Nujaifi, a Sunni Muslim, did not name the Mideast nations and did not offer specifics. Iraq's Sunnis long have worried about Iran's burgeoning influence in Baghdad, where the Shiite-dominated government has built ties with Tehran since the 2003 fall of Saddam Hussein.
Top U.S. officials, including Defense Secretary Leon Panetta and Secretary of State Hillary Rodham Clinton, voiced similar concerns over the weekend.
"Iraq now suffers from points of weakness," al-Nujaifi told a news conference in Baghdad. "If neighboring countries see that Iraq is weak and incapable of protecting its borders and internal security, then definitely there will be interference. This interference does exist now."
Limiting Iran's influence in Baghdad was a top U.S. pitch to keep American troops in Iraq past the Dec. 31 withdrawal deadline set in a 2008 security agreement. Washington has feared that meddling by Iran, a Shiite Muslim theocracy, could inflame tensions between Iraq's majority Shiites and minority Sunnis, setting off a chain reaction of violence and disputes across the Mideast.
About 39,000 U.S. troops remain in Iraq, down from 166,000 in October 2007, the peak of the American military surge to curb sectarian killings that brought the country to the brink of civil war. Nearly all will leave after Iraq's government and the U.S. failed this month to reach an agreement on a few thousand to stay and continue training security forces.
Speaking to reporters in Bali, Indonesia, Panetta noted that an estimated 40,000 U.S. troops will be stationed across the Mideast even after the Iraq withdrawal, including about 23,000 in neighboring Kuwait.
"So we will always have a force that will be present and that will deal with any threats from Iran," Panetta said.
Iraq is located between Iran and Sunni powerhouse Saudi Arabia. Iraq has seen terrorist traffic cross over its Syrian border and is grappling with a rebel force in its north that has for years targeted Turkey.
Al-Nujaifi suggested stepped up diplomatic talks across the Mideast "because a stable Iraq will bring stability to the whole region."
With the military withdrawal, the U.S. Embassy in Baghdad will shoulder much of the responsibility of training Iraqi forces, with the help of a small number of NATO troops. But a report released early Monday cast deep doubt on the Embassy's ability to do so, noting that a State Department program to train Iraqi police lacks focus, could become a "bottomless pit" of American money and may not even be wanted by the Iraqi department it's supposed to help.
The findings by the U.S. Special Inspector General for Iraq Reconstruction paint what is supposed to be the State Department's flagship program in Iraq in a harsh light. It found that only a small portion -- about 12 percent -- of the millions of dollars budgeted will actually go to helping the Iraqi police.
The "vast preponderance of money" will pay for security and other items like living quarters for the people doing the training, the review found. It also said that although the State Department has known since 2009 it would be taking over the training program, it failed to develop a comprehensive and detailed plan for the training.
"Without specific goals, objectives and performance measures, the PDP (Police Development Program) could become a 'bottomless pit' for U.S. dollars intended for mentoring, advising and training the Iraqi police forces," the report stated.
Moreover, the Iraqi government has yet to sign off on the program and doesn't seem to want it. The report quoted Adnan al-Asadi, who oversees daily operations at Iraq's Ministry of Interior (MOI) as suggesting the U.S. should spend the money on something for the American people instead.
"What tangible benefit will Iraqis see from this police training program? With most of the money spent on lodging, security, support, all the MOI gets is a little expertise, and that is if the program materializes. It has yet to start," al-Asadi said.
The U.S. Embassy in Baghdad did not respond to a request for comment. In a letter to SIGIR, the State Department said it "generally agrees" with the report's recommendations but defended its efforts.
Few dispute, however, that Iraqi police are far from ready to fully protect their country -- or even themselves.
On Monday, police and health officials said four separate attacks against traffic police in Baghdad killed two policemen and three civilians. Twelve people, including eight police, were injured.
The officials spoke on condition of anonymity because they were not authorized to release the information.
---
11-10-2011 | (صوت العراق) - أربيل/ أصوات العراق

11-10-2011 | (Voice of Iraq) - Erbil / Aswat al-Iraq
أعلنت مديرية شرطة أربيل، عن اعتقال مجموعة مشتبه بارتكابهم جرائم سرقة وعمليات لتزوير في مدينة أربيل بينهم عراقيين من خارج الإقليم.
Erbil Police Department announced the arrest of a group suspected of having committed crimes of theft and fraud operations in the Iraqi city of Arbil, including from outside the region.
وأوضح المتحدث باسم مديرية شرطة أربيل النقيب كاروان عبد الكريم لوكالة (أصوات العراق)ان "خلال حملة لقوات الشرطة ومديرية مكافحة الإجرام تم اعتقال 9 أشخاص متهمين بارتكاب جرائم سرقة وتزوير في مدينة أربيل".
The Police Department spokesman Capt. Erbil Karwan Abdul Karim told (Voices of Iraq) that "during the campaign to the police and the Directorate of fighting crime has been arrested 9 people accused of crimes of theft and fraud in the city of Arbil."
وأضاف أن "شرطة أربيل تلقت عدة شكاوى من قبل المواطنين الذين يراجعون المصارف لسحب الأموال بأنهم يتعرضون إلى عمليات سرقة مستمرة من قبل مجهولين وبعد وضع كاميرات مراقبة تمكنت قوات الشرطة من تحديد هوية ثلاثة أشخاص عند اعتقالهم تبين أنهم عراقيون من خارج الإقليم".
"The Erbil Police received several complaints from citizens who were referred to banks to withdraw money they are exposed to constant theft by unknown and after surveillance cameras police are able to identify the three people arrested when they showed Iraqis from outside the region."
وفي حادث منفصل تابع عبد الكريم أن " قوات الشرطة تمكنت من اعتقال ستة أشخاص آخرين بتهمة التزوير في قضايا مختلفة بينهم عراقي من خارج الإقليم بحوزته أربعة ألاف وأربعة مائة دولار من فئة المائة دولار أمريكي مزورة".
In a separate incident, Abdul Karim added that "the police had arrested six others on charges of fraud in the various issues, including an Iraqi from outside the region in possession of four thousand and four hundred dollars in hundred-dollar counterfeit U.S.."
---
| | |
| --- | --- |
| 21 Sep 2011 | |
ACSAD, Iraqi Agricultural Ministry Cooperate to Develop Iraqi Part of al-Hamad Basin
DAMASCUS - An Iraqi agricultural delegation and the Arab Center for the Studies of Arid Zones and Dry Lands (ACSAD) on Wednesday discussed the executive plan for the project of developing the Iraqi part of al-Hamad Basin shared between the two countries.

The project to develop the part of the basin inside the Iraqi land, which covers an area of 3.6 million hectares, is being carried out by ACSAD in cooperation with the Iraqi Agricultural Ministry.

ACSAD Director General Rafiq Ali Saleh and the Iraqi Ministry delegation, headed by Hussein Jabr, discussed cooperation in the fields of water and topographic studies, land deterioration, pastures development, improving animal resources and preparing social and economic studies for the inhabitants of the northern and southern deserts of the Iraqi al-Hamad to draw out a work plan for the project's activities.

Saleh underscored the importance of implementing the project, considering it an example that can be applied in other countries in terms of its integrated development project that ensures the development of the region and optimal and sustainable investment of its natural resources.

For his part, Jabr, who is the Director General of the Mesopotamia State Company for Seed Production, expressed the Iraqi Agricultural Ministry's desire to open new prospects for cooperation with ACSAD as it has proved its competence on the Arab, regional and international levels.

© SANA (Syria Arab News Agency) 2011


______________________________________________________________________________________________________________________________________


In Iraq's Mosul, pay Al-Qaeda tax or pay the price (The New Middle East's Mafia) my words!


 

Businessmen face cruel dilemma of paying monthly sum terror network or jeoperdise their businesses, families.




Middle East Online






Please Al-Qaeda or security forces? in both cases businesses are the losers
BAGHDAD - Iraq does not tax its citizens, but Abu Jassem al-Juburi, who runs a gas station in Mosul, still hands over a chunk of his income every month to the group that holds sway there: Al-Qaeda.
Dramatically weakened nationwide since it wrought vicious attacks at the height of Iraq's sectarian war from 2006 to 2008, the terror network's front group here still retains influence in the northern city.
The Islamic State of Iraq is widely described by businesspeople, officials and security leaders as a mafia-like organisation that extorts cash from Mosul residents in a bid to fund attacks.
"If I keep the gas station open, Al-Qaeda gunmen demand I give them free fuel and make financial contributions, claiming to fight the occupation," Juburi said, referring to US forces in Iraq as many locals here still do, eight years after the invasion that ousted now-executed leader Saddam Hussein.
"If I close it, the security forces accuse me of cowering to terrorists, of creating supply problems, and they threaten to throw me in prison for a week or two. So, I pay."
"It is a cruel dilemma," concluded the 50-something, whose gas station lies in the west of the city, 350 kilometres (200 miles) north of Baghdad.
Mosul, home to 1.6 million Iraqis, is capital of Nineveh province. The south and west of the city is largely made up of Sunni Muslims, while the rest of Mosul is home to Shiites, Kurds and Christians.
The city, for centuries a trading hub in the Middle East, translates loosely as "the junction" in Arabic. During Saddam's rule, it was home to a large pool of officers in his army and security services.
Now, many of the city's traders and businessmen profess to paying around $150 a month in "tax" to the ISI.
"Strangers come to me and extort money," said the 40-year-old operator of a private neighbourhood electricity generator who asked to be named only as Abu Mohammed, or "father of Mohammed", for fear of retribution.
"They tell me, 'If you do not want to see your family, or if you want your generator to catch fire, then don't pay'. Of course, I give in," he says, blaming authorities for failing to improve security.
Mosul officials openly acknowledge how much power the ISI has in the city.
"Al-Qaeda forces entrepreneurs, industrialists, traders, pharmacists, all of them to put their hands in their pockets to finance their activities," noted Abdul Rahman al-Shammari, head of the security committee on the Nineveh provincial council.
"The activities of Al-Qaeda in the province, and particularly in Mosul, are due to the long border with Syria and the fear of the city's residents in denouncing the terrorists."
Much of that is due to distrust of the security forces, Shammari said, and their perceived infiltration by ISI fighters. In addition, while the province's policemen are largely made up of locals, many of the soldiers posted to the area are from Iraq's Shiite Muslim south.
Mosul is one of the most violent cities in the country. In 2009, 557 attacks resulted in 757 deaths, according to the independent NGO Iraq Body Count, with a per-capita level of violence much higher than the capital, which has four times as many residents.
The IBC did not immediately respond to an AFP request for up-to-date figures.
Despite its reduced profile nationwide, ISI is still able to recruit in Mosul's mosques, arguing that it is the only group "resisting the occupiers," said a police commander who declined to be identified.
"But threats remain their strongest means of persuasion," the officer said.
"If a businessman refuses to pay, they kill his son in front of his home. If he still stands firm, they will blow up his house to make an example of him for others."
He added that ISI leaders in Nineveh were able to organise attacks from jail and had sufficient power to have non-compliant prison guards killed.
"The family of each detainee receives payment from Al-Qaeda, and the group promises to build him a house for when he is released," the officer added.
But while they raise funds in Mosul, the focus of their attacks remain Baghdad, according to defence ministry spokesman Major General Mohammed al-Askari.
"Al-Qaeda's leadership is in Mosul, the bombs are made in Diyala (a province in central Iraq), the funds are provided by Sunnis in the north and west of the capital, and operations today are concentrated on Baghdad," he said.
---
Iraq will be the most important economic zone in the Middle East
Posted: September 10, 2011 by THE CURRENCY NEWSHOUND   
Likely adviser in international trade and transport inhibitor reconcile that Iraq is an important economic zone in the Middle East for the attributes of the elements of great economic, calling exploited properly to become Iraq's first free zone for trade exchange in the world
The impediment of the reporter Agency (news) on Saturday: It is possible to turn Iraq into an important economic zone in the Middle East and the host country of the world belongs to the great economic potentials of the port of Faw.
Mani stressed the need to exploit all the economic resources of the country properly by the government of Iraq to become the first free zone for international trade in the world, noting that all European countries have been issued instructions as a result of the global financial crisis Balastthmarbotgah the Middle East, particularly in Iraq.
The inhibitor: The Office of International Trade a study in this regard and submitted to the Ministry of Transport and contained (10) projects including the port of Faw, which will hopefully be a free zone shall meet each manufacturers in the world, he said, but the study was rejected for lack of the environment implemented them.
The Chancellor called for in international trade and transport to reconsider this study because it will be a pillar in the world economy and the recipient of the first and last is Iraq, stressing the need to work hard to save the Iraqi economy and make Iraq one of the best countries in the world economically.
http://bit.ly/o4V23z
---

07 Sep 2011
New agreement with US difficult - MP
BAGHDAD: A Parliamentary Foreign Relations MP expected that difficulties may arise in signing  a new agreement with Washington on an extension of the U.S. forces in Iraq.


"The political blocs have almost  agreed to abide by the security agreement between Iraq and American on the U.S. forces withdrawal by the end of this year, but it will be difficult to draft a new agreement due to the public's rejection," MP Hassan Khudhair al-Hamdani told Aswat al-Iraq.
"The Iraqi people know that the U.S. forces violated the rights in the country and did not defend the sovereignty of Iraq," he added. He stressed the importance of "supporting the Iraqi army with new technologies and supplies."
Kurdistan President Masoud Barzani said that "Iraq is still in need of the U.S. forces," but criticized the attitude of political blocs for not adopting an exact stance on the matter. "Iraqi security forces are not ready to defend Iraq, and the army is not prepared to defend its borders," Barzani added.
© Aswat Aliraq 2011
---

07 Sep 2011
Iraq urges US hasten delivery of F16 fighter
Baghdad - The U.S. should accelerate delivery of F16 fighter jets so that Iraq can fortify its air defense before the U.S. withdrawal by end of 2011, spokesman for Iraqi Defense Ministry said.


The country still relies on U.S. forces for air support for its troops. The United States formally ended combat missions in Iraq last year and American soldiers are now mainly advising and assisting the Iraqi military.
Speaking to AKnews shortly after a meeting between the acting Defense Minister Saadun al-Dalimi and the U.S. Secretary of the Air Force Michael B. Donley, Maj.Gen. Mohammed al-Askari told AKnews on Tuesday that the meeting was to accelerate the enforcement of the contract to purchase F16 fighter jets.
Officials also discussed providing Iraq with more air defense facilities, warplanes for training purposes and intelligence aircrafts.
Planes to purchase the fighters were disclosed early this year. Initially 18 F16 jets were demanded from Lockheed Martin.
Late July Iraqi PM Nouri al-Maliki said the demand has been doubled for boosting the air forces.  
 Iraq's air force is one of the weakest branches of its armed forces, which are still battling insurgents and militias more than eight years after the U.S.-led invasion that toppled Sunni dictator Saddam Hussein.
The initial purchase of the F-16s was delayed after government put 900 million dollars of allocated funds into its national food program to ease pressure from Iraqis protesting against poor basic services.
© AK News 2011
---
| | |
| --- | --- |
| 31 Aug 2011 | |
Baghdad Airport shut down after terror threat
Iraqi Civil Aviation Authority said on Tuesday that Baghdad International airport was closed due to warning from the U.S. about a potential terror threat.


"U.S. Forces warned us today that there is a potential danger threatening the airport and planes' safety. For that reason we closed the airport", said Iraq Civil Aviation Authority Director Nasser Hussain al-Ameri. "The airport was reopened after authorities took preventive measures to protect against any incidents", he added.
The government reopened the airport after just over an hour.
"Baghdad airport is now operating normally and it resumed arrival and departure activities after some delay", al-Ameri added.
Iraq's Airspace is controlled by the U.S. military.
© AK News 2011
---
| | |
| --- | --- |
| 29 Aug 2011 | |
Port dispute rocks commercial exchange with Kuwait
Baghdad - Commercial exchange between Iraq and Kuwait has slumped to $250 million, while Iraq's exchange with other neighboring and regional states is hitting unprecedented highs.
Governmental economic committee member Rafie Ahmed told AKnews that political disputes between Iraq and Kuwait - particularly concerning Kuwait's controversial construction of a deepwater port in waters shared with Iraq - are behind the decrease.
Construction on Kuwait's Mubarak Port began in April amid protests from Iraq.
Economists predict that the new deepwater port will cost Iraq around 60% of its maritime traffic.
Iraq announced plans to build its own deep water port at al-Faw - close to the Mubarak site - in 2005. It wasn't until April 2010 when the foundation stone for the $4.6 billion project was eventually laid, and work on the new 99 million ton capacity port has still not begun.
In 2009 commercial exchange with Kuwait stood at $262 million, already a relatively low figure compared to other countries in the Middle East and considering Iraq's drive to open sectors of investment to its neighbors in its post-war rehabilitation and development.
Commercial exchange with Iran, excluding oil contracts, stands at around $1 billion; Turkey accounts for about $10 billion; Jiordan another $1 billion and Syria $3 billion.
© AK News 2011
---
---
| | |
| --- | --- |
| 29 Aug 2011 | |
Baghdad mosque attack kills MP, 27 others
By Salam Faraj
BAGHDAD, Aug 29, 2011 (AFP) - An elderly bandage-swathed suicide bomber blew himself up in Baghdad's biggest Sunni mosque, killing an MP and at least 27 others in an attack that was blamed on Al-Qaeda on Monday.
The blast was part of nationwide violence that left 35 dead on Sunday, just days before the conclusion of the holy Muslim fasting month of Ramadan and the Eid al-Fitr festival that marks its end, and was apparently carried out by a man who detonated his explosives in a crowd of worshippers.
An interior ministry official said 28 people were killed and 37 wounded in the attack late on Sunday. A defence ministry official put the toll at 29 dead and 35 wounded.
The suicide blast was quickly condemned by Prime Minister Nuri al-Maliki and parliament speaker Osama al-Nujaifi.
Among the dead was Khaled al-Fahdawi, an MP from western Anbar province allied with the Sunni-backed Iraqiya bloc, the interior ministry official said. Elderly men and children were also among the casualties.
Baghdad security spokesman Qassim Atta and Ahmed Abdulghafur al-Samarrai, head of the blue-domed Umm al-Qura mosque that was targeted and one of the founders of an anti-Qaeda militia force comprised of Sunni tribesmen in Baghdad, pointed the finger at Al-Qaeda.
"It is 100 percent certain that Al-Qaeda is behind this attack," Atta told AFP on Monday.
He added that the bomber "blew himself up in the middle of the people in the mosque to try to get the maximum number of casualties."
Samarrai, meanwhile, told Al-Sharqiyah television: "I am sure Al-Qaeda was behind this attack ... We will continue our fight against those criminals and unbelievers. They tried to drag the country into sectarian war before."
He said he had seen the attacker before at the mosque, describing him as an elderly visitor and adding: "That is why it was so easy for him to enter the mosque."
The suicide bomber apparently walked up to a crowd, covered in bandages, as the mosque chief was giving a speech and detonated his explosives, according to Samarrai.
The Umm al-Qura mosque, located in western Baghdad, is the largest Sunni mosque in Baghdad and the headquarters of the Sunni Endowment, which is responsible for maintaining Sunni Muslim religious sites across Iraq.
Samarrai is known for his sermons against violent extremism. He was one of the founders of the Sahwa, or Awakening, movement in the mostly Sunni north Baghdad neighbourhood of Adhamiyah.
The Sahwa are comprised of Sunni tribesmen who joined forces with the US military against Al-Qaeda from late 2006, helping turn the tide of the insurgency. As a result, Sahwa fighters are despised by Al-Qaeda insurgents, and Samarrai has received several threats against his life.
A car bomb and four roadside blasts in other areas of the capital killed one person and wounded 20 others earlier Sunday, according to the interior ministry official.
Meanwhile, separate gun attacks in the restive central province of Diyala left five people dead, including two policemen, according to an Iraqi army colonel in Diyala's security command centre.
Explosions in Mosul and Tuz Khurmatu, north of the capital, left a policeman dead and six others wounded, security officials said.
Sunday's violence comes after Al-Qaeda's front group in Iraq threatened a campaign of 100 attacks, starting in mid-August, to avenge the death of Osama bin Laden in a US special forces raid in Pakistan in May.
Violence is down across Iraq from its peak in 2006 and 2007, but attacks remain common. A total of 259 people were killed in violence in Iraq in July, according to official figures, the second-highest figure in 2011.
bur-psr/wd/bm
---
| | |
| --- | --- |
| 27 Aug 2011 | |
Call to demonstrate after Eid, Muqtada al-Sadr
NAJAF: Sadrist leader Muqtada al-Sadr called upon the Iraqi people to a "million" demonstrators after Eid festival, calling for better services, following the end of the term granted to the government before six months.
Sheikh Hadi Muhamadawi, in today's Friday speech, on behalf of al-Sadr, said "the peoples are stronger than tyrants".
"Iraqi resistance will down the flags of US occupation forces", he added.
On the other hand, the speech called for stopping the bombings on Iraqi territories by some neighboring countries, calling Kuwait to solve pending questions through dialogue.
Al-Sadr gave the government six months time table to evaluate the work of the ministries.
Sadrist ministers occupy most of the services posts in the government.
Najaf lies 160 km south of the capital, Baghdad.
© Aswat Aliraq 2011
---