Iraq extinguish a large proportion of its foreign debt

Posted: March 22, 2014 in

Iraqi Dinar/Politics

Iraq from countries committed to pay its debts gives a good indication of what part of the world rankings informal in this area. Where have paid more than $40 billion of total debt adjusted to the Paris Club, which was up to 51.6 billion dollars in 2004.

classified Iraq's foreign debts on 4 categories include both debt to Paris Club countries, the debt of non-member states of the Paris Club, and the debt of commercial creditors ( foreign private sector), and the debt of the GCC countries in addition to contracts for consultants accounting and legal.

In this regard, said the academic economic Dr Majid Baidhani that the country strides in stages pay its debts earlier leaving only a fraction of them having fulfilled its obligations to creditors as total debt that has been settled for countries outside the Paris Club exceeded 16 billion dollars after it was up to 18.33 billion U.S. dollars in 2004. He explained in a statement to the (morning): The total commercial debt that was processed amounted to more than 16 billion dollars at a time when 19 billion dollars in 2004.

added during the journey debt repayments initiated Iraq in 2004, offers to settle the debts of the creditors through the presentation of cash purchase, offer a way to buy the debt of religion, where the presentation included the first purchase of the debt by 10.25 percent of the total debt and the abolition of the remaining 89.75 percent, took part in these offers creditors less than the proportion of young people who indebtedness for $ 35 million with total amounts Levels 5 billion U.S. dollars.

He explained that the way of an offer to buy the debt of religion included the bond issue a loan of 20 percent of the total debt for the benefit of creditors and the exemption of the remaining 80 percent and pay out of bonds of the loan over the years from 2020 to 2028 and bear interest on the loan bonds at 5.80 percent, have participated in this offer creditors Sales adults who increase their demands for 35 million dollars.

mentioned that the government had contracted with four financial institutions and global banks as external advisors who provide advice, support and consulting all matters relating to the settlement of Iraq's foreign debts. They are all from the Ernst & Young Foundation Cleary Kutlob (outside legal counsel) and the Foundation Alzard French. Foundation Houlihan Lokey English and the Bretton City Krupp and JP Morgan are the two banks and their mission is to provide support to the Ministry of Finance to settle the debts of foreign commercial creditors (foreign private sector) has been entrusted with the task to them due to the wide spread of around the world.

________________________________________________________________________________________________


D. Appearance of Mohammed Saleh
Issued Security Council Resolution 1956 in December 15, 2010 to lift the immunity from Iraqi funds deposited in the official out of the country. The immunity based mainly on a UN Security Council resolution 1483 in May 2003 on Iraq's exports of oil, gas and petroleum products and returns confiscated or placed under legal seizure by creditors of Iraq during the reign of the former regime. After removal of immunity is possible for Iraq to be subjected to legal action unfriendly from the remnants of trade creditors of the previous era system.

In order to assess the march of international financial relations to Iraq since 2003, we will two major themes; first is Iraq's foreign debt and the evolution of international inputs and outputs; and the second is under the protection of Iraqi funds through the current international financial system according to the areas of jurisdiction where Juridictions.

After agreement Iraq in November 2004 with a group of creditor nations of the Paris Club terms debt restructuring under the previous regime, he followed Iraq program very careful to select all trade creditors during the rule of the former regime, and display filter claims debt settlement trade creditors on terms similar to agreed with Paris Club (in terms of net present value and a discount of at least 80% of the debt). The estimated debt at the time, and before the signing of the agreement, about $ 140 billion to different creditors, both of sovereign debt to Paris Club countries or sovereign outside the Paris Club, including commercial debt.

On 21 October 2004, Iraq signed an agreement with a group of creditors of the Paris Club, which received an 80% reduction of the total official debt with the international group consisting of (19) countries, which amounted to debt on Iraq really until the end of December 2004 about 38.9 billion in nominal terms (of Iraq's total debt estimated at about 120 billion dollars).

On this basis, Iraq has signed bilateral agreements (debt restructuring with each member of the Paris Club to settle the debt amounted to more than 51.1 billion dollars since before the year 1990) and according to the following mechanism:

First: to address the origin of religion, with the adoption of three stages to achieve debt reduction by 80%. The first phase was to delete 30% of total debt as it was on the first of January 2005, under which Iraq received a reduction of $ 11.6 billion. In the second phase was an additional reduction of 30% of the total debt of the case that Iraq has signed an agreement support arrangements with the International Monetary Fund (IMF), which occurred in 2005, and estimated reduction at this stage about $ 11.6 billion as well. As will be scheduling the rest of the debt of 40% over 22 years with a grace period of 6 years standing. It was in the third stage to reduce the total last of 20% on the total debt as stated in its preliminary, but this unconditional completion of Iraq program arrangements support SBA with the IMF, which was completed in about three years from the date of signature of the program, any year-end 2009 , the total reduction to this point about $ 7.8 billion.

In the light of the foregoing, that the debt treatment by stages will lead to a reduction in total indebtedness of Iraq to Paris Club countries from 38.9 billion dollars to about 7.8 billion dollars. A similar percentage reduction of 80%, provided that the nominal par value of the debt with the net present value NPV.

Second: to address interest, any capitalized interest accrued on the total remaining debt of 20%, where accumulated interest will be capitalized during the first six years after the signing of the Paris Club formula capitalized on the year: 2005: 100%; 2006: 100%; 2007: 100% ; 2008: 90%; 2009: 73%; 2010: 47%.

Notes that after six years on the reduction of the burden of cash flows, any help Iraq to postpone the payment of principal with a high degree of capitalized interest, will be payable debt gradually over 28 years in equal semi-annual installments of 34 batch. It will be the first installment on the first of January 2011, and was (minus 0.37%); and the second installment on the first of January 2012 amounted to (minus 0.39%), and the last batch will be the first of January 2038 the rate of (minus 5.07%), one of the largest payments that will be realized at the time.

In order to implement the Paris Club agreement and ensure the safety of its applications, Iraq has appointed French banking financial institution known ancient LAZARD to act as a financial advisor, and follow-up mechanism for the settlement of remaining indebtedness Iraq with a Paris Club countries.

With regard to bilateral agreements with non-member countries of the Paris Club, the International Monetary Fund has conducted in 2003 a survey on the ground between the presence of about 55 non-member State of the Paris Club made its claims against Iraq, all of which date back to the era of the former regime. Starting in 2005, demanded that Iraq these countries to liquidate their debts and settled on financial terms similar to those agreed with the Paris Club. Of the 55 of these countries, to reach Iraq to resolve issues of bilateral debt with 42 countries. The remaining countries are Algeria, Brazil, Egypt, Jordan, Kuwait, Morocco, Pakistan, Poland, Qatar, Saudi Arabia, Sudan, Turkey, United Arab Emirates.

And on the trade creditors, called on Iraq in December 2004 all business enterprises, which have a contractual debt on Iraqi public sector operators, to register their claims with the settlement agent Iraq's debt, a firm Ernst & Young. After the settlement process and the liquidation of claims under the previous regime under conditions similar financial terms of the Paris Club, was settling over 13 thousand and 60 individual claim to present a total of more than 20 billion and $ 900 million.

The process continues debt settlement business for a continuous two-way Iraq. First; represents small business debt, estimated at $ 5 billion, and was the payment of such indebtedness, which represents small creditors (those under the indebtedness of $ 35 million) to pay a percentage of 10.25% out of debt in cash. Iraq has paid an amount of $ 450 million immediately upon completion of the settlement (which is similar in principle terms of the Paris Club terms of discount Iraq's debt by 80% and rescheduled over 28 years interest rate of 5.8% in terms of net value NPV).

The second trend to accept sovereign bonds Iraqi being traded in the international financial market on under the terms of the Paris Club, where extinguished 80% and interest and scheduling itself in the above, with lower foreign debt of this segment of the $ 20 billion and $ 900 million to two billion and 700 million dollars. As Iraq's bond yield International estimated 7% annually, putting Iraq B classification in terms of international creditworthiness in the global financial market.

2 - Protection of Iraq's money:

Look at the economic analysis of law

But there are forms in the transition to successor arrangements for the Development Fund for Iraq. On the basis of assessment phase UN Security Council Resolution 1905 in 2009, may be subjected Iraq to legal risks posed by claims a number of trade creditors who have not settled indebtedness, as well as individuals claiming damages for being affected by policies of the former regime, at the end of the legal protection provided by the UN Security Council Resolution 1483 in 2003 on Iraq's oil exports and revenues, which will end its effectiveness at the end of this year.

It estimated some international bodies an initial amount of $ 629 million for those claims, in addition to the creditor nations remaining 13 countries outside the Paris Club.


* Deputy Governor of the Central Bank of Iraq

---

Posted on 29 March 2012. Tags: Arab League, Arab League Summit, Debt, Egypt, Jordan, Kuwait, Libya, Morocco, Qatar, Saudi Arabia, Sudan

Iraq has asked its Arab neighbours to forgive its pre-invasion debts, urging them to follow the United Arab Emirates and Algeria which have already written off what they were owed, according to Reuters.

"We've asked Saudi Arabia, Kuwait, Qatar, Libya, Jordan, Sudan, Egypt and Morocco to help Iraq in closing up its debt situation," Iraqi Finance Minister Rafie al-Esawi [Rafie al-Issawi, Rafi Hiyad al-Issawi, Rafia al-Issawi] said on the first day of the Arab League Summit in Baghdad.

The Paris Club of 19 rich creditor nations agreed in 2004 to write off 80 percent of some $40 billion debt to help Iraq recover from the 2003 U.S.-led invasion. Debt forgiveness talks with non-Paris Club nations are still under way.

"It needs more cooperation from Arab countries regarding the cancelling of debt," Esawi said, thanking the UAE and Algeria for agreeing to cancel 100 percent of debts.

Iraq's external debt was between $130 billion and $140 billion in 2003, much of which was settled through the 2004 Paris Club agreement.

That deal required Iraq to seek similar settlements with all its other creditors. But some commercial creditors won legal judgements and have refused to comply with the settlement.

Saudi Arabia last year was owed $30 billion by Iraq and Kuwait is owed around $22 billion in additional to war reparations for the 1991 Iraqi invasion of Kuwait.

China has written off 80% of the debt it was owed by Iraq.

---

UAE waives $5.8 billion of Iraq debt

January 17, 2012

UAE waives $5.8 billion of Iraq debt

Proposes way forward by holding successful Arab summit in Baghdad

The UAE has decided to waive Iraq's debt of $5.8 billion (Dh21.29 billion) and backs holding the next Arab summit in Baghdad, Foreign Minister Shaikh Abdullah Bin Zayed Al Nahyan announced.

"An agreement will be signed soon to lay out the legal framework for waiving old Iraqi debt of $5.8 billion," Shaikh Abdullah told a joint news conference with his Iraqi counterpart Hoshyar Zebari.

On holding the next Arab summit in Baghdad, Shaikh Abdullah said there was a decision by Arab leaders to this effect. "The question is when this summit can be held in Iraq, so that that summit will be successful. We Arabs want to make sure the next summit will be a step forward and at the same time keep Iraq's right to host the summit."

Zebari said the general secretariat of the Arab League will send a delegation to Iraq on January 23to assess the situation there and the preparedness of Baghdad to hold such a summit.

There are security concerns as violence has surged across Iraq since the last American troops left the country, with a string of bombings that has left at least 150 people dead since the beginning of the year.







---

The Algerian government has cleared all of Iraq's debt, estimated at $ 400 million

Source: Neno's Place – A Community of Reality
URL: http://www.nenosplace.com/content.php?466-The-Algerian-government-has-cleared-all-of-Iraq-s-debt-estimated-at-400-million

Published on 09-21-2011 08:17 AM


2011-08-29 12:58 EconomicThe Algerian government has cleared all of Iraq's debt, estimated at $ 400 million

Neighbourhood: Detect the Ambassador of the Republic of Iraq, in Algeria, Uday goodness of God, that he had received correspondence an official from the Algerian government to inform him wipe all of Iraq's debt to Algeria, which were estimated at more than $ 400 million, representing amounts owed and the benefits of it, as well as fines, according to El Khabar.

He Ambassador of the Republic of Iraq in Algeria, Uday Good God, gratitude for the step taken by Algeria and of clear all debts of the state of Iraq due to Algeria, which was estimated at 763 401 million U.S. dollars, and that through the correspondence received, yesterday, the Iraqi embassy in Algeria , which confirmed that Algeria, and after that proceeded to clear the outstanding amounts, I decided to clear the benefits of all this debt, as well as all the fines for delay in payment.

The ambassador pointed out in his statement to"news"yesterday in his office at the Iraqi embassy in Algiers, that the arrangements clear the debt agreement is a recognition of the whole, and this according to the agreement between the parties, which will become final and effective immediately after the entry into force. The Adi goodness of God that the embassy had offered to Algeria need to make the necessary arrangements to clear this debt in full, especially since Algeria was earlier confirmed clear the debt, but the amounts owed ​​only, without interest, fines of non-payment,"but by sending yesterday informed us Algeria scans all of Iraq's debt to Algeria.

The Iraqi debt to Algeria in more than $ 142 million amounts withdrawn and outstanding, and more than $ 167 million interest due and unpaid, and more than $ 91 million fines for delay in payment, bringing the value of debt total to more than $ 401 million U.S. dollars. and regrets the Iraqi ambassador in Algeria from the reluctance of a number of Arab countries on the survey of Iraq's debt has, at the time rushed many Western countries to clear these debts. He stressed that Iraq may Contact all the countries that have a debt to clear it.


---


Zebari: Algeria cancels all debts owed by Iraq

Posted: June 23, 2011 by

THE CURRENCY NEWSHOUND 

State: Algeria cancels all debts owed to Iraq to their advantage

Baghdad (news) .. had to cancel Mr. Hoshyar Zebari, the Foreign Minister a letter from the Algerian Foreign Affairs Minister Mr. Mourad Medelci include Algerian government's decision to cancel all debts owed to Iraq for the benefit of Algeria.

He said the statement received by the Agency (news) today Alkhmba "the desire of them (Algeria) in contributing to the development of the Iraqi economy to enhance the relationship of brotherhood and solidarity between the two countries and two peoples.

Algerian government decided to cancel all debts of the pending Iraq for the benefit of Algeria.

http://wp.me/pZC7o-8NG

---

Iraq signed an agreement with Denmark to the Danish debt cancellation 100%
Sunday, 17 k 2 2010 15:

Alsumaria News / Baghdad


The Ministry of Finance of Iraq, said on Sunday it had signed a bilateral agreement with Denmark to write off debt owed by Iraq by 100%, while confirming that the States that will reduce the debts on Iraq would be a priority in the investment projects in it.

The Finance Minister Baqir Jabr Al-Zubaidi during a joint press conference held at his office in Baghdad with the Danish ambassador in Iraq, Michael Wonder, attended "Alsumaria News", "Iraq was able to reduce the $ 120 billion of the debt owed his trust, amounting to 140 billion dollars," adding that "this reduction comes as a continuation of the process of debt cancellation promised by the creditor countries to Iraq. "

The al-Zubaidi that "the signing of the agreement with Denmark will reduce the remaining debt amounting to 20% after it signed with the earlier agreement to a reduction of 80% of the debt of 55 million dollars," noting that "Iraq has started to negotiate with countries that extinguished 80% of the debt-extinguishing the remaining amount of 20%. "

The Minister of Finance of Iraq that "Iraq will give priority to investment companies of the States which shall hide the debts on Iraq by 100% to work in Iraq," noting in this regard that Iraq "has succeeded in some of its debts written off by 100% in some foreign countries like the United States of America and Cyprus , Malta, United Arab Emirates, with its debt reduced by 80% for a number of countries, including Russia, Germany and France. "

He pointed out that al-Zubaidi debts owed by Iraq to Saudi Arabia and Kuwait, which declined to size "has not yet been resolved," asserting that "Iraq is seeking to sign a number of agreements to reduce debts, with some Arab countries like Egypt and Morocco."


Iraq had signed an agreement last year with Tunisia to reduce its debt of $ 187 million by 100%.

For his part, said Danish Ambassador Mikhail rare in an interview with "Alsumaria News", "Denmark is continuing to support Iraq in all fields of economic, agricultural and industrial as well as support for human rights in Iraq and provide support to Iraqi universities," pointing out that "Danish companies are looking to work in Iraq as soon as possible, "according to his words.

Denmark is one of the Member States of the Paris Club, which took place in December of 2004 an agreement with Iraq to reduce the debt owed by the Member States resulting from Iraq and by 80%.

The Paris Club of 19 countries of the economic world's richest countries which provides financial services such as debt rescheduling and debt relief, debt cancellation to indebted countries that the IMF had identified their names.

It is noteworthy that Iraq is seeking to cancel the debts, which resulted during the period of the previous regime, amounting to more than 120 billion dollars and some due compensation because of wars waged on the neighboring countries.


http://translate.google.com/translate?js=y&prev=_t&hl=en&ie=UTF-8&layout=1&eotf=1&u=http%3A%2F%2Fwww.alsumarianews .com%2Far%2F3%2F2292%2Fnews-details-Iraq%2520business%2520news.html&sl=ar&tl=en

---
Posted on 13 April 2010. Tags: China, CN, Debts
The Iraqi government signed an agreement with the Chinese government to write off 80% of Iraq's debts due to China, according to a foreign ministry press release.
"Iraqi Finance Undersecretary Fadel Nabi Othman signed for Iraq while the secretary of the committee of companies' indebting Iraq signed for China," read the statement as received by Aswat al-Iraq news agency.
"The agreement was signed in light of memorandums of understanding signed by Iraqi President Jalal Talabani during his visit to China in June 2007," it added.
Iraq has been seeking to have its debts $120 billion debts accumulated during the former regime's time, some of them in compensations over was, be dropped. The war-torn nation has managed to have most of that sum – $55 billion due for the Paris Club members – dropped.
Iraq still owes debts to some Arab countries, including Gulf States, at $21 billion: $15 billion to Saudi Arabia and $6 billion to Kuwait.
An Iraqi American who wants to see peace and justice in the world.
Monday, July 07, 2008
Iraq's debt to Kuwait should be forgiven
Iraq's remainder of the UN-imposed $53 billion in
compensation claims
to
Kuwait
should be forgiven. Saddam Hussein made the decision to invade Kuwait. Most Iraqis did not want to go to war with Kuwait. I think it is ridiculous to force Iraq, a cash-poor war-torn country whose citizens suffered through 12 years of sanctions while Saddam got richer and stronger, to pay billions of dollars to
Kuwait
, an oil-rich country. Kuwait's population is just 3 million, and it was the 11th largest oil producer in the world in
2006
. Kuwait was able to rebuild quickly after the 1991 war and produce 2 million barrels of oil a day by
1994
- in that article I found this interesting:
"The rebuilding phase is over," said Nader Sultan, the deputy chairman and managing director of the state-owned Kuwait Petroleum Corporation. "The new phase for the next five to 10 years is looking for growth markets."

 

Yet Kuwait's growth strategy has been influenced by the Gulf war. Twenty years after nationalizing its oil business and defiantly vowing to make its own way, Kuwait is once again looking to work closely with the West's big oil corporations. Pragmatism prevails in Kuwait these days, and that means viewing the oil companies as useful sources of capital, technology and skills. After the war, Kuwait also recognizes that there might be security benefits from partnerships with Western oil companies.

 

Architects and engineers are at work now on blue prints for a petrochemical plant costing nearly $2 billion that will be built and operated jointly with Union Carbide, and the Government has contracted with British Petroleum and Chevron for help with exploration, drilling and training of Kuwaiti technicians.
It made me wonder how many US troops have been in Kuwait since 1991. Certainly US troops were in Kuwait in large numbers prior to the invasion of Iraq. Yet we haven't heard of suicide bombings or market bombings in Kuwait City. No attacks on Kuwaiti security forces. Maybe this is the worst part: many
insurgents
who fight in Iraq grew up in Kuwait. It's like the Jordanian who lived all his life within
15 miles
of the Palestinian border, and to fight the infidel invader (ostensibly) he travels hundreds of miles and ends up mass murdering Iraqis.
Furthermore, Iraq has suffered through cruel sanctions and another war since the war of 1991. The damage inflicted on Iraq since 1991 has been much greater than the damage inflicted on Kuwait during the six months it was occupied by Iraq. Iraq has already paid reparations totaling $19 billion by
2005
. Iraq still owes about
$28 billion
. The UN should make the move (because Kuwait apparently won't) to forgive Iraq's debt to Kuwait. It is only fair, in my opinion, given that Saddam and his henchmen killed any Iraqi who refused to serve in their army. It seems wrong to impose this debt on Iraq.
PS: I just deleted this part of the post: "Kuwait's government won't even recognize Iraq's new government, yet they demand reparation payments from Iraq." Iraq and Kuwait restored diplomatic relations in
2004
! Saudi Arabia, on the other hand, is still
considering
restoring diplomatic ties with Iraq.
Iraq to get debt relief from Emirates
A visit by Premier Maliki to improve ties appears to pay off with pledge to cancel more than $4 billion owed.
Prime Minister Nouri Maliki traveled Sunday to the United Arab Emirates, where he won a promise that at least $4 billion of Iraq's debt would be forgiven.
The visit was a significant step forward in efforts by Iraq's Shiite-dominated government to improve relations with Sunni Arab nations in the region. Maliki's administration has been criticized for its close ties with Shiite-led Iran and accused of failing to deal firmly with Shiite militias at home.
The government's crackdown starting in spring on militias in the southern Iraq cities of Basra and Amarah and the large Shiite district of Sadr City in Baghdad helped clear the way for renewed diplomatic contacts.
The principal of the debt owed by Iraq was put at $4 billion. An Emirates diplomatic source told Reuters news service that the total sum that would be forgiven was closer to $7 billion when interest and arrears were included.
In addition to canceling the debt, Emirates leader Sheik Khalifa bin Zayed Al Nahyan pledged to send an ambassador to Baghdad and help with the reconstruction of holy shrines in Iraq damaged by years of war and civil strife.
Iraq's finance minister had said last week that several other Sunni Arab countries were planning to set up embassies in Baghdad. Besides the United Arab Emirates, he named Jordan, Bahrain and Kuwait.
The embassies of Arab nations were targeted by militant Sunni groups after the 2003 overthrow of Saddam Hussein, to discourage them from supporting the new government. The Emirates withdrew its ambassador after one of its diplomats was kidnapped. He was later released.
Meanwhile, after two relatively quiet days, violence resumed Sunday.
In Anbar province, a suicide bomber drove a car into a joint Iraqi-American checkpoint near Rawah, about 165 miles northwest of Baghdad, killing five Iraqi police and injuring 18 people, a police source said. He said helicopters took away wounded Americans.
The U.S. military said it had no report on any such incident.
A roadside bomb targeting a leader of a minor Kurdish political party killed seven people in a part of northern Diyala province that Kurds want to incorporate into their semiautonomous region. Mohammed Ramadhan Esa of the National Kurdistan Party was injured, but the explosion killed his wife, three of his children, his sister-in-law and two guards, police said. Three other people were wounded.
A car bomb went off near the entrance of Shaab neighborhood in north Baghdad, killing six people and injuring 14, including three police officers.
In Iskandariya, about 25 miles south of Baghdad, a leader of the concerned citizens group, the U.S.-funded neighborhood security force, was killed in a bombing.
An area north of Sadr City was sealed off Sunday after gunfire erupted Saturday night. Witnesses said a joint U.S.-Iraqi force conducting an operation in the area, once a stronghold of anti-U.S. cleric Muqtada Sadr, exchanged fire with several gunmen.
The U.S. military said an American soldier died Saturday of noncombat injuries. The cause of death was being investigated. At least 4,114 U.S. service members have died since the war began in 2003, according to the independent website icasualties.org.
Times staff writer Raheem Salman and special correspondents in Baghdad and Baqubah contributed to this report.
---
UNITED NATIONS, Dec. 26 (UPI) -- The United Nations issued a formal welcome for a decision by the Paris Club of international donors to forgive the outstanding debt of the Iraqi government.
The Paris Club Monday canceled the remaining 20 percent, or $7.8 billion, of Iraq's debt stemming from the Saddam Hussein era.
The economic group is an informal consortium of leading world economies working with the International Monetary Fund to coordinate debt restructuring and relief for developing nations.
U.N. Secretary-General Ban Ki-moon hailed the measure as a "major achievement" for Iraq and a recognition of the government in Baghdad to embrace necessary reforms.
"This is a major achievement and acknowledgment of the Iraqi government's determination to implement necessary reforms despite overwhelming challenges," the U.N. statement said.
The secretary-general also called on creditor nations outside the Paris club to take similar action in an effort to integrate Iraq into the international economy.
---
Bulk of Iraqi debt to Paris Club to be forgiven
Sunday, November 21, 2004
PARIS – The nineteen member nations of the Paris Club have agreed to forgive 80 percent of Iraq's debt, reports the Reuters news service. The plan will reduce Iraq's total debt to the member nations to $7.8 billion, from the original $38.9 billion, over a period of four years.
The three-phase plan approved by the creditors calls for an immediate cancellation of 30 percent of Iraq's current debt, which will be followed by another 30 percent in 2005 upon approval of an economic program for the nation by the International Monetary Fund and 20 percent in 2008 after an evaluation of the effectiveness of the program.
Adel Abdul Mahdi, Iraq's Finance Minister, said that the deal was "historic". He also expressed optimism that other creditor nations, including neighbors in the Middle East as well as several Eastern European nations, may follow the West's lead in forgiving Iraqi debt.
However, Bulgaria and Romania have announced that they intend to recoup as much as possible of the debt owed them by Iraq, claiming that the inflow of cash from Iraq is essential to their respective economies. They have, however, indicated their willingness to discuss rescheduling of payments on the debt. Dimitar Tsonev, spokesman for the Bulgarian government, told the Sofia News Agency that the requests from Western leaders to reduce Iraq's debt were not the first such requests he had received. Romania has said it would like to take a flexible approach to the debt repayments, one which is in line with its economic potential.
The plan is the culmination of a trans-Atlantic struggle over the amount of Iraqi debt to be forgiven, the United States pushing for a 90 to 95 percent reduction while France argued for much less.
---
IRAQ Debt Treatment - November 21, 2004
Supporting aggreements with the international institutions
program with the IMF of the Emergency Post-Conflict Assistance (EPCA) approved on September 29, 2004
Download the IMF report : Letter of Intent
Total external debt of the country
$120200 million as of December 31, 2004 , $37158 million of which being due to the Paris Club as of January 01, 2004
Amounts treated
$37158 million , of which $29727 million being canceled , of which $7431 million being rescheduled
Categories of debts treated
treatment of arrears as of December 31, 2004 , treatment of the stock as of January 01, 2005
Specific provisions

possibility to conduct debt swaps

On a voluntary and bilateral basis, the Government of each Participating Creditor Country or its appropriate institutions may sell or exchange, in the framework of debt for nature, debt for aid, debt for equity swaps or other local currency debt swaps: (i) all Official Development Assistance loans; (ii) amounts of outstanding credits, loans and consolidations on debts mentioned in Article II-1 other than ODA loans, up to 20% of the amounts of outstanding credits as of January 1, 2005 after the implementation of the First Reduction or up to an amount of 20 million SDR, whichever is higher. Participating creditor countries and the Republic of Iraq will inform semi-annually the Secretariat of the Paris Club, who will inform other Creditors, of the debt swap agreements they have implemented. All elements necessary to evaluate the operation, its impact on the Republic of Iraq's economy and on the evolution of creditor's exposure will be transmitted to the Secretariat, including: its nature and purpose; the parties to the debt swap; the amount, type and value of the debt treated; the price of sale to investors and the expense of the Republic of Iraq.

cancellation phasing

First Reduction : cancellation of 30% of the debt stock as of the date of the signature of the agreement.


Second Reduction : cancellation of 30% of the initial debt stock as soon as an Arrangement with the IMF in the upper credit tranches is approved, implemented on 23 December 2005.


Third Reduction : cancellation of 20% of the initial debt stock as soon as the last review of an Agreement with the IMF in the upper credit tranches is approved, implemented on 22 December 2008.

 

payment of non-consolidated amounts before June 01, 2005
Comparability of treatment provision
In order to secure comparable treatment of its debt due to all its external public or private creditors, the Government of the Republic of Iraq commits to seek promptly from all its external creditors debt reduction and reorganization arrangements on terms comparable in net present value to those set forth in the present Agreed Minutes for credits of comparable maturity. Comparability of treatment for debt reduction in net present value is assessed not only on the basis of the reduction in the face value of the debt but also on the terms of repayment of the debts not cancelled. Consequently, the Government of the Republic of Iraq commits to accord all categories of creditors -and in particular creditor countries not participating in the present Agreed Minutes, commercial banks and suppliers- a treatment not more favorable than that accorded to the Participating Creditor Countries.
For the purpose of the comparison between the arrangements concluded by the Government of the Republic of Iraq with its creditors not listed in the present Agreed Minutes on the one hand, and with the Participating Creditor Countries on the other hand, all relevant elements will be taken into account, including the real exposure of the creditors not listed in the present Agreed Minutes, the level of cash payments received by those creditors from the Government of the Republic of Iraq as compared to their share in the Republic of Iraq's external debt, the nature and characteristics of all treatment applied, including debt buy backs, and all characteristics of the reorganized claims and in particular their repayment terms whatever forms they take and in general the financial relations between the Government of the Republic of Iraq and the creditors not listed in the present Agreed Minutes.

Cutoff date
May 22, 2003
Organisation of the session
The meeting was chaired by Mr. Jean-Pierre Jouyet, Chairman of the Paris Club
The head of the debtor country's delegation was Mr. Adil A. Mahdi, Minister of Finance

Participating creditors

AUSTRALIA , AUSTRIA , BELGIUM , CANADA , DENMARK , FINLAND , FRANCE , GERMANY , ITALY , JAPAN , KOREA, REPUBLIC OF , NETHERLANDS , RUSSIAN FEDERATION , SPAIN , SWEDEN , SWITZERLAND , UNITED KINGDOM , UNITED STATES OF AMERICA

Observers

NORWAY , European Commission , IMF , OECD , UNCTAD , World Bank
International Monetary Fund (IMF)

United Nations Conference on Trade and Development (UNCTAD)
Organization for Economic Development and Cooperation (OECD)

http://www.clubdeparis.org/sections/traitements/irak-20041121/viewLanguage/en

---
Iraq to Receive Debt Forgiveness
Published November 20, 2004
Associated Press
Germany's finance minister said Saturday that he and the U.S. Treasury Secretary (search) have reached an agreement under which Iraq's creditors would write off up to 80 percent of Iraq's debt, capping a months-long U.S. push for debt forgiveness.
Finance Minister Hans Eichel (search) said a meeting with Treasury Secretary John Snow "created the basis on which the forgiveness of Iraqi debt can be settled mutually in the Paris Club (search)" of creditor nations, which is owed about $42 billion by Iraq.
"We agreed that there should be a write-off of debts in several stages amounting to 80 percent in total," Eichel told reporters on the sidelines of a meeting of ministers from the Group of 20 major economies.
"Within this framework, the necessary decisions can now be taken in the Paris Club," Eichel said. He did not elaborate and took no questions.
The German-U.S. agreement was being discussed Saturday by the Paris Club and "our expectation is that it will be accepted," said Eichel's spokesman, Joerg Mueller.
The United States has been pushing for a generous debt write-off for Iraq, trying to win support for wiping out as much as 95 percent of its debt.
However, other governments, including Germany, have questioned whether a country rich in oil should benefit from huge debt reduction. France, which strongly opposed last year's U.S.-led war to oust Saddam Hussein, has previously proposed that the Paris Club write off half of the debt, postpone debt service for three years and revisit the issue when Iraq's economy is in better condition.
Iraq has said its overall foreign debt of $122 billion is hindering postwar reconstruction.
The Paris Club of creditor countries includes Austria, Australia, Belgium, Britain, Canada, Denmark, Finland, France, Germany, Ireland, Italy, Japan, the Netherlands, Norway, Russia, Spain, Sweden, Switzerland and the United States.
Iraq also owes $80 billion to various Arab governments.
Eichel was keen to stress that the planned Iraqi debt write-off "is not a precedent for any other case."
"We only see a special situation for Iraq," he said.
Thirty percent of Iraq's debt would be written off immediately, another 30 percent in a second stage "tied to a program of the International Monetary Fund" and a further 20 percent "linked to the success of this program," he said.
---
United Nations S/2010/153
Security Council Distr.: General
29 March 2010

Original: English
10-29692 (E) 300310 050410
*1029692*
Letter dated 18 March 2010 from the Permanent Representative
of Iraq to the United Nations addressed to the President of the
Security Council

I have the honour to transmit herewith a letter addressed to you from H.E. Hoshyar Zebari, Minister for Foreign Affairs of the Republic of Iraq (see annex),
together with its enclosure, the first quarterly report of the Government of Iraq regarding the action plan and timeline for the transition to successor arrangements
for the Development Fund for Iraq and the International Advisory and Monitoring Board by 31 December 2010.
I have further the honour to request that the present letter and its annex be circulated to the members of the Security Council and issued as a document of the
Security Council.
(Signed) T. Hamid Al-Bayati
Ambassador Extraordinary and Plenipotentiary
Permanent Representative
S/2010/153
10-29692 5
The United Arab Emirates has announced the cancellation of 100 per cent of the debt owed to it by Iraq, and an agreement in confirmation of that announcement will be signed by officials of both States. Morocco is considering the feasibility of cancelling 100 per cent of the debts owing to it, and a draft bilateral agreement has been despatched. Most of the outstanding
debt of the remaining countries has been verified and draft bilateral agreements have been sent to them. However, dates for the signature of those agreements have not been determined, or replies have not yet been received: Iraq is following up through delegations or contacts with officials in those countries.
Commercial creditors
In December 2004, Iraq invited all commercial enterprises that have claims on Iraqi Government departments and public sector institutions to register their claims
with Ernst and Young, the agent for the reconciliation of Iraqi debt. A process of settling claims from the Saddam era was conducted on the basis of financial criteria
comparable to the terms agreed with the Paris Club with respect to current net value. Some of the commercial creditors agreed to Iraq's debt reconciliation proposals and
to date, more than 13,160 individual claims with a total value in excess of $20.9 billion have been reconciled. The process of reconciling Iraq's commercial
debts continues. A small number of international commercial creditors who had registered Saddam era debts under the programme rejected or ignored Iraq's proposals for the
reconciliation of their debts. We believe that those debts amount to some $629 million. It is possible that the other commercial creditors were unsuccessful in
registering their claims. However, Iraq has no information on the number of claimants, if any, who fall into this category.
With a view to settling the remaining commercial debts, Iraq has inaugurated new schemes whereby each creditor may submit its claim to Ernst and Young, the
agent for the reconciliation of Iraqi debt, for verification. Those claims will then be settled in accordance with the Paris Club agreement, either in the form of a cash
payment representing 10.25 per cent of the outstanding claim or in the form of bonds with a face value of 20 per cent of the old debt, on which interest will be
payable twice yearly over 17 years. A number of creditors have come forward and their claims have now been verified and are in the process of being settled. Genuine follow-up is continuous, with a view to persuading all commercial creditors to accept settlement.
The Government of Iraq affirms its commitment to settle all debts and claims inherited from the former regime, and to continue to deal with them until all have
been cleared. It requests the international community to continue to provide assistance until the Government of Iraq has completed its endeavours in that respect.
---
This is from the China Daily at http://www.chinadaily.com.cn/english/doc/2004-06/09/content_337849.htm
Updated: 2004-06-09 08:45
The Bush administration believes most of Iraq's debt must be forgiven to ensure the country's stability but will not specify a percentage, a U.S. official said on Tuesday.
The official, speaking on condition of anonymity at the Group of Eight summit, said the International Monetary Fund had circulated to creditors "a very detailed debt sustainability analysis" for Iraq.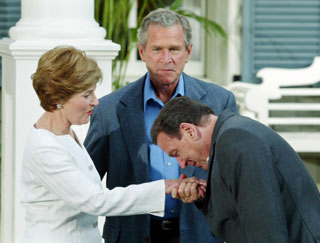 German Chancellor Gerhard Schroeder (R) leans over the to kiss first lady Laura Bush's hand as U.S. President George W. Bush (C) looks on during the arrivals for the social dinner at the G8 summit meetings in Sea Island, Georgia, June 8, 2004. The first day of the three day summit saw the world leaders hailing the United Nations vote on Iraq sovereignty.[Reuters]
Iraq's debts are estimated at about $120 billion, and Washington was expected to press Iraq's foreign creditors to forgive at least 80 percent of it as an Iraqi caretaker government prepares to take up the reins at the end of June.
"In our view, I think it's clear it shows the need for the reduction of the vast majority of Iraq's debt," considering its future oil revenues and costs of rebuilding the war-wracked country, said the official.
Iraq can potentially generate about $20 billion of oil revenues annually, but it has little other economic capacity currently, the official noted.
"Just the numbers show that in order to get a sustainable debt situation in Iraq, you're going to have to reduce the vast majority of that debt," said the official, who spoke as G8 leaders arrived for a three-day summit 80 miles away at Sea Island, Georgia.
The IMF has given members of the Paris Club -- a group of sovereign creditors that meets in Paris to consider requests by debtors to postpone debt repayments or reduce service obligations -- a detailed study of Iraq's financial condition.
DEBTS 'STAGGERING'
"When you think about it, you've got about $120 billion in debt for Iraq and you have an economy that can produce about $20 billion in oil and that, for the near term, is its GDP (gross domestic product) so the debt-to-GDP ratio is staggering," the U.S. official said.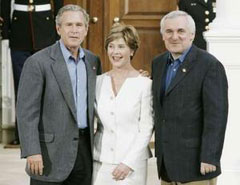 US President George W. Bush and first lady Laura Bush (C) welcome European Union President, Prime Minister of Ireland Bertie Ahern (R) to the social dinner at the G8 summit on Sea Island, Georgia, June 8, 2004. The first day of the three day summit saw the world leaders hailing the United Nations vote on Iraq sovereignty.  [Reuters]
A senior Canadian official who had seen the IMF analysis of Iraq's indebtedness said it supported a view that hefty relief will be needed.
"The IMF document spoke of the need for more than what has been viewed as substantial, which is 66 or 67 percent," the Canadian official said. "The debate will be of course how much more."
Exactly how far the political leaders at Sea Island can carry the discussion about Iraqi debt forgiveness forward at this week's summit was unclear, since the IMF analysis is a recent one that is under study.
"There's a (G8) commitment ... to work to resolve the Iraqi debt issue by the end of this year and we'll be working with the Paris Club and with non-Paris Club countries to reach that goal," the U.S. official said.
Canada indicated support to forgive the vast majority of Iraqi debt, while German Chancellor Gerhard Schroeder said Germany was willing to make a "substantial" contribution, although he refused to be specific.
But the biggest creditors, France and Russia, favor a smaller reduction in Iraq's obligations since they want to be repaid and because Iraq's oil resources are seen by some as substantial enough to warrant it paying a larger portion.
The U.S. official played down the idea that one way to smooth the way for Iraqi debt forgiveness would be more generous treatment for developing nations that qualify for help under an expiring debt-relief program called the Highly Indebted Poor Countries initiative, or HIPC.
The Bush administration is still considering how to handle HIPC, including the option of extending it beyond its scheduled expiration in December, said the U.S. official.
A spokesman for British Prime Minister Tony Blair also insisted Iraqi debt relief and HIPC were "separate issues" and that Britain favors both.
In London, a British Treasury source said Britain would press for an extra $1 billion for HIPC at the summit.
"It's important that multilateral debt relief gets on the G8 agenda alongside proposals for the expansion of bilateral debt relief and increases in development aid," the British Treasury source said.
---
What is the status of the administration's Iraq debt-reduction plan?
Presidential envoy James A. Baker III, a former U.S. secretary of state, visited Japan and China December 29-30 and five European nations December 15-19. He secured pledges from the European nations and Japan to reduce the debt Iraq owes them and a promise from China to consider debt forgiveness. Experts say Baker is pushing for as much as 90 percent of the debt to be forgiven or rescheduled. Estimates of Iraq's total indebtedness range as high as $130 billion. The pledges are significant because administration officials have said debt relief is essential for Iraq's economic development and because four of the countries--China, France, Germany, and Russia--were vocal opponents of the U.S.-led invasion of Iraq. Whether the cooperative spirit that greeted Baker can be expanded to other topics remains to be seen.
Which countries agreed to cooperate on debt reduction?
All the nations Baker visited. The Japanese Foreign Ministry announced December 29 that Japan would forgive "the vast majority of its Iraqi debt," if other countries do the same, and on the same day the official New China News Agency said China "will consider reducing the debts owed by Iraq out of humanitarian concern." A joint statement released December 16 after a meeting between French President Jacques Chirac, German Chancellor Gerhard Schroeder, and Baker read, "Debt reduction is critical if the Iraqi people are to have a chance to build a free and prosperous Iraq." On December 18, Russian President Vladimir Putin announced that Russia would join negotiations to lower Iraq's debt to the Paris Club group of lenders. Baker also secured commitments from British Prime Minister Tony Blair and Italian Prime Minister Silvio Berlusconi.
Baker cancelled a scheduled stop in South Korea on his Asia trip. He has not yet started negotiations with Arab nations owed Iraqi money.
Why was Baker chosen?
As secretary of state in 1991, Baker assembled a coalition of more than 40 nations for a United Nations-approved mission to drive Iraqi invaders out of Kuwait. Many experts say his extensive experience in the region and longstanding personal relationships with many world leaders make him a highly appropriate candidate for the diplomatic assignment. Experts say the choice of Baker, a trusted friend and adviser of President Bush, signals the importance the administration has assigned to reducing Iraq's debt. Baker was named to his post on December 5, 2003.
How much money does Iraq owe?
Most experts agree that Iraq's foreign debt--the money it, as a state, owes other governments--ranges from $120 billion to $130 billion. When reparations for the first Gulf War, compensation claims, and pending contracts are added in, the figure could rise to as high as $300 billion. Some say that, in order to help Iraq's transformation to a modern democracy, some or all of these debts should be forgiven.
How does the debt break down?
The figures vary widely, say experts, because of the difficulty of getting accurate information about Iraq's finances. Many of the debts were informal or unrecorded, so it's difficult to pin down precise figures, some experts say. Iraq also did not service its debts--make payments on them--for more than 10 years, so interest accrued.
What are the accepted estimates of Iraq's debt?
The following list shows the range of Iraq's financial obligations:
Paris Club :
$21 billion before interest, including$4 billion to Japan $3.5 billion to Russia $3 billion to France $2.5 billion to Germany $2 billion to the United States $1.7 billion to Italy
Unpaid contracts :
$57 billion, most of it owed to military contractors
Arab nations :
$40 billion
Other debtors :
$10 billion
Iraq also owes some $200 billion in reparations, mostly to Kuwait and Saudi Arabia, for the first Gulf War.
Including interest, what are the upper estimates of the Paris Club debt?
As much as $40 billion. Joseph Siegle, the Douglas Dillon fellow at the Council on Foreign Relations, says, for example, that the $4 billion Iraq owes to Japan under official Paris Club rules has grown to $7 billion with interest.
What is the Paris Club?
A group of international creditor nations that meets voluntarily to negotiate debt rescheduling and restructuring for nations that owe them money. There are 19 members--most of the European Union countries, Australia, Japan, Russia, and the United States. The group meets 10 or 11 times each year to review issues concerning debtor countries.
When and how did the United States support Iraq?
Official U.S. assistance to Iraq--"overt economic aid and some military assistance"--flowed from 1952-1973, Siegle says. Saddam Hussein came to power in 1979. From 1980-88, experts say, the United States provided millions of dollars in aid to Saddam Hussein for his war against Iran.
How are the reparations decided?
Following the 1991 Gulf War, the United Nations Security Council decided that Iraq would be liable for damages resulting from its invasion of Kuwait. The United Nations set up a Compensation Commission (UNCC) to judge and administer claims brought by foreign governments, corporations, or individuals against Iraq.
How are the claims supposed to be paid?
Initially, the Security Council decided that 30 percent of Iraq's oil revenue would be set aside to pay reparations; this figure was later reduced to 25 percent and then again to 5 percent. The UNCC has registered some 2.6 million claims and awarded $46 billion in damages. Of this figure, nearly $18 billion has already been paid out of Iraqi oil revenues through the U.N. Oil for Food Program. In addition to reparations, Iraq is responsible for paying interest on the claims. It also paid some $278 million in UNCC operating expenses--including lawyers' fees--by November 2002. Experts estimate that some $20 billion to $30 billion in additional reparations will be awarded to claimants.
How much of the money Saddam Hussein borrowed was used to buy military equipment?
Quite a lot, experts say. Jubilee Iraq, an organization dedicated to reducing Iraq's debt load, says that Saddam Hussein's government signed billions of dollars' worth of contracts, mostly for military goods. This includes an estimated $4 billion in orders from French contractors for F1 fighters, air-to-surface missiles, laser guided missiles, attack helicopters, military vehicles, and artillery pieces, and $9 billion committed to Russian contractors for helicopters, MiG fighters, and radar equipment.
How much of it went to civilian purposes?
Much less, experts say. For example, Saddam Hussein borrowed $300 million from Switzerland for building materials and machinery, according to Jubilee Iraq. But, experts warn, he likely used those materials to build either military installations or his exorbitant palaces.
Who supports debt forgiveness?
Top members of the Bush administration, including Deputy Secretary of Defense Paul Wolfowitz. President Bush was so concerned about Iraq's debt load that he threatened to veto a November spending bill if it contained a Senate proposal to make part of its $18.6 billion aid package to Iraq a loan; Bush said the loan would unnecessarily burden the country with more financial obligations. James Wolfensohn, president of the World Bank, has advocated erasing nearly two-thirds of Iraq's debt and rescheduling repayment of the rest on less-stringent terms.
What are the arguments for forgiving the debt?
Many say it's required to give the country a fair chance at economic redevelopment. With so many pressing humanitarian and reconstruction needs, advocates argue, the Iraqi people should not be saddled with repaying debts Saddam Hussein used to prop up his rule. Nobel-prize winning economist Joseph Stiglitz cites Germany after the Versailles Treaty of 1919 as evidence of the damage that heavy reparations can do to a nation. Significant debt forgiveness is "absolutely imperative," says Michael E. O'Hanlon, senior foreign policy fellow at the Brookings Institution. "The debt servicing requirements to be imposed on Iraq [under the current system] are going to be astronomical and punitive, and that's against our interest. We need to be winning the hearts and minds of the Iraqi people, and showing the rest of the Arab world that we're not there to service Western oil interests."
Is that the only pro-forgiveness rationale?
No. Some say that wiping out the debt incurred by a known tyrant will discourage international lending to such types in the future. "Lenders are seeking a legal basis for these claims, but they entered into these contracts with a dictator. It was a risky investment, and it went down the tubes. Governments and global taxpayers shouldn't be required to bail out private investors who made seamy choices," Siegle says. Some advocacy organizations concur; Oxfam says that countries and corporations that lent Saddam Hussein money supported his dictatorship and do not deserve repayment.
What are the arguments against?
Members of the international financial establishment warn that if Iraq defaults on its debts, it could jeopardize its future credit rating and impair its ability to attract foreign direct investment. They say that Iraq's debt burden can be lessened with generous restructuring and repayment schedules that still require the country to fulfill its financial commitments. Some experts also say that forgiving Iraq's debt could set back international development because it could discourage lending to a wide variety of governments, including some that are now authoritarian but could someday be democracies: China, for example. Critics of forgiveness also point out that, as a potentially wealthy country--one that controls the world's second largest oil reserves--Iraq is hardly the most worthy candidate for debt forgiveness.
Who would benefit from debt forgiveness?
The Iraqi people, say some experts, who would be able to apply their oil revenue to rebuilding their country instead of servicing debt. Experts also say the Middle East region will benefit from increased stability and foreign investment in Iraq. "There's a real boom waiting to happen for the region," Siegle says. "If Iraq is given that kind of investment and starts to play its natural role as a trading post, it's going to benefit all those countries."
What is odious debt?
The concept was pioneered in 1927 by Alexander Sack, an expatriate Russian law scholar in Paris. He wrote, "When a despotic regime contracts a debt, not for the needs or in the interests of the state, but rather to strengthen itself, to suppress a popular insurrection, etc., this debt is odious for the people of the entire state. This debt does not bind the nation; it is a debt of the regime ... and consequently it falls with the demise of the regime." Sack went on to say that creditors who lend to dictators "have committed a hostile act against the people" and cannot expect a nation that has overthrown a despot to "assume ... the personal debts of the ruler." Although Sack's definition is widely accepted, there is no formalized international legal structure for either determining which debts are odious or enforcing the forgiveness of such debts.
Can Iraq's debt be classified as odious?
Yes, according to many experts.
Are there precedents for forgiving odious debts?
Yes. In 1883, Mexico repudiated debts incurred by the Austrian Hapsburg Emperor Maximilian to prop up his reign over Mexico between 1863 and 1867 and suppress an uprising there. In 1898, the United States pushed to wipe out debts Cuba owed Spain, on the grounds that the debts prevented the Cuban people from rebelling against Spanish colonial rule. In 1923, the Costa Rican government distanced itself from money lent by Great Britain to Federico Tinoco, the dictator in Costa Rica from 1917-1919. The states of the former Yugoslavia are currently in negotiations to avoid paying back funds lent to Yugoslavia to finance military action against its breakaway republics.
Are other countries paying off odious debt?
Yes. Indonesia, Nigeria, and South Africa, among others, are all currently repaying debt incurred by authoritarian governments.
Will forgiving Iraq's debt build momentum for other countries to have their debts forgiven?
Experts say it might, by focusing attention on the debt burdens of many countries with fewer resources than Iraq. Joseph Stiglitz, the former chief economist of the World Bank and chairman of the Council of Economic Advisers in the Clinton administration, said in a Reuters news report that Washington's argument for Iraqi debt relief could be made about "any number of countries," including Tanzania, Ethiopia, Argentina, Chile, and the Congo. "Iraq is a compelling case [for debt relief], but it has been arbitrarily selected by this administration when there are many other more compelling cases," he said.